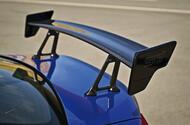 Subaru has released a single image of its upcoming hot BRZ STI model, which is due to be revealed in early June
The Subaru BRZ STI is coming, with carbonfibre aero parts and the possibility of more power from its boxer engine.
Subaru hinted at the car on social media, simply captioning a photo of the BRZ with STI-branded carbonfibre rear wing with 'Stay tuned…6/8/17. #STI'.
The first part of the text may hint at a higher state of tune for the BRZ's 2.0-litre naturally aspirated flat-four engine. Subaru's only other STI-badged model is the WRX STI, successor to the Impreza WRX STI.
The standard WRX sports saloon, which isn't available in the UK, produces 268bhp, where the WRX STI produces 305bhp; an increase of almost 14%, thanks to direct injection, turbocharging and Dual Active Valve Control.
The WRX STI's engine is a developed version of the BRZ's, so it's possible that the changes would be carried over to the BRZ STI.
The standard BRZ weighs 1231kg, with 55% of its weight over the rear wheels and 45% over the fronts.
The BRZ costs from £25,040, so the STI model could well cost more than £30,000. In this price bracket, it would have the Lotus Elise to contend with.
Read more:
New Subaru XV to go on sale in 2018
Subaru Levorg long-term test review: final report
Subaru Ascent name confirmed for upcoming seven-seat SUV
Source:: Autocar