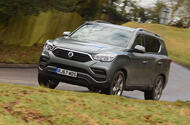 Can this old-school 4×4 deal with some heavy-duty abuse? We're about to find out
Why we're running it: To find out whether a big, separate-chassis, part-time all-wheel-drive SUV still has a place in the world
Life with the Ssangyong Rexton: Month 1
Welcoming the Rexton to our fleet – 28th March 2018
Whatever you think of Ssangyong, there's no denying that the company's new Rexton four-wheel drive is a vehicle of intriguing contrasts.
It has a finely appointed interior crammed with modern electrical tech, yet there's an old-school rotary knob allowing you to switch between rear-wheel drive, four-wheel drive and low range. It has a rather 20th-century separate chassis, above which sits a modishly sumptuous quilted leather interior.
So this is your big, tough SUV in the form that most of these beasts used to come in, underpinned with box-section steel reinforcements that would have been familiar to Isambard Kingdom Brunel.
South Korean Ssangyong is now well into a recovery drive under the apparently benevolent wing of Mahindra & Mahindra, racing to catch up with competitors after bankruptcy protection and takeover. It's also aiming to find itself a viable niche in a crowded automotive world. Rather than battle the major SUV makers head-on, the Rexton sits in an increasingly lonely slot occupied by rugged 4x4s with a separate chassis and the ability to tow 3.5 tonnes in sometimes arduous conditions.
Unless you're happy to drive a crew-cab pick-up truck – indeed, the Rexton shares its foundations with just such a vehicle, in the shape of the new Musso – your only similarly constructed alternatives are the ageing Mitsubishi Shogun, the utility Jeep Wrangler, Toyota's Land Cruiser or the Mercedes G-Class.
But as Ssangyong points out, there's a market for a tough SUV that can play the mule, and the firm has ambitions to take a slice of it, aided by the fact that this much-improved Rexton provides equipment and furnishings that are entirely contemporary. So, all versions have autonomous emergency braking, forward collision warning, lane departure warning and traffic sign recognition, as well as Apple CarPlay and Android Auto, a rear-view camera, auto headlights and wipers and at least eight airbags, for a price that starts at £27,995.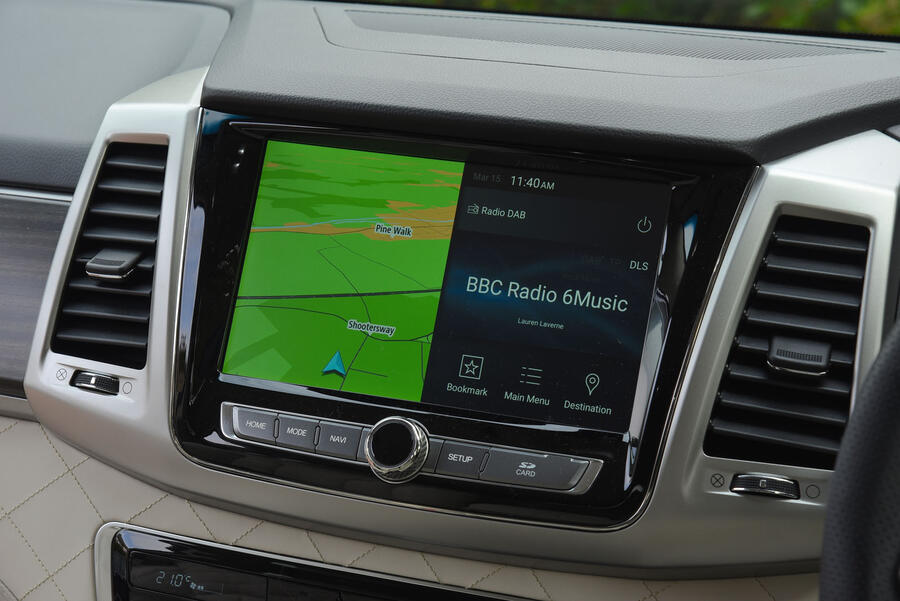 That gets you the EX trim; there's also an ELX version, but we have greedily gone for the Ultimate, in no small part because it provides one of the Rexton's biggest visual surprises. Which is a part-quilted, nappa leather interior redolent of a Bentley's. Of course, close inspection soon shows why a Bentley cabin costs so much more – not because the Rexton's is poorly finished, but because Bentley goes much further with detail like knurled metal gearlever knobs. Sit aboard the Rexton, though, and you'll be enjoying a decently premium experience, if not a super-luxury one.
And the Ultimate certainly comes laden with kit. The front seats are ventilated as well as heated, the rear seats and steering wheel are heated, there's an around-view monitor, a power tailgate, 20in alloys (in gangsta chrome finish), a removable false floor, a sizeable 9.2in infotainment screen, a driver's knee airbag and, unusually, a 220V power supply – just the job for charging laptops and power tools.
The Rexton's engine is the same regardless of trim, its 2.2-litre turbodiesel mustering 179bhp and a more promising 310lb ft of tugging power between 1600 and 2600rpm. The Rexton Ultimate comes with automatic transmission as standard, a seven-speed Mercedes E-Tronic gearbox (Ssangyong has a long association with Daimler). The less expensive versions are available with a six-speed manual.
The Ultimate also comes as a five-seater, but seven-seat Rextons are also available. If the seven-seat option implies plenty of space, well, there is – the five-seater providing 820 litres seats-up, or 1977 litres seats down. That can't be far off the capacity of many a garden shed.
Such usefulness I plan to put to good use, along with the optional tow-hook, by using the Rexton to transport assorted non-running classic cars about and, in the case of a dismantled 1968 Alfa Romeo GTV currently undergoing a body restoration, a load of parts too. With that 3.5-tonne towing capacity, it should be a breeze.
And so far, so is living with the Rexton. When you climb into its cabin, your resultant height reminds you that all these new crossovers and SUVs do not ride as revealingly high. New vistas are opened up on familiar journeys because you can see over hedges, and often a lot further up the road too. You ride at the same regal height as you do in a Range Rover, and it's very pleasant. That same height rather underlines the Rexton's more limited on-road dynamic potential, although the steering is quick enough and furnished with unusually good feel, the assistance being hydraulic rather than electric. So it's a bit more wieldy than separate-chassis SUVs used to be, but unsurprisingly well adrift of the athletic scope of a BMW X5.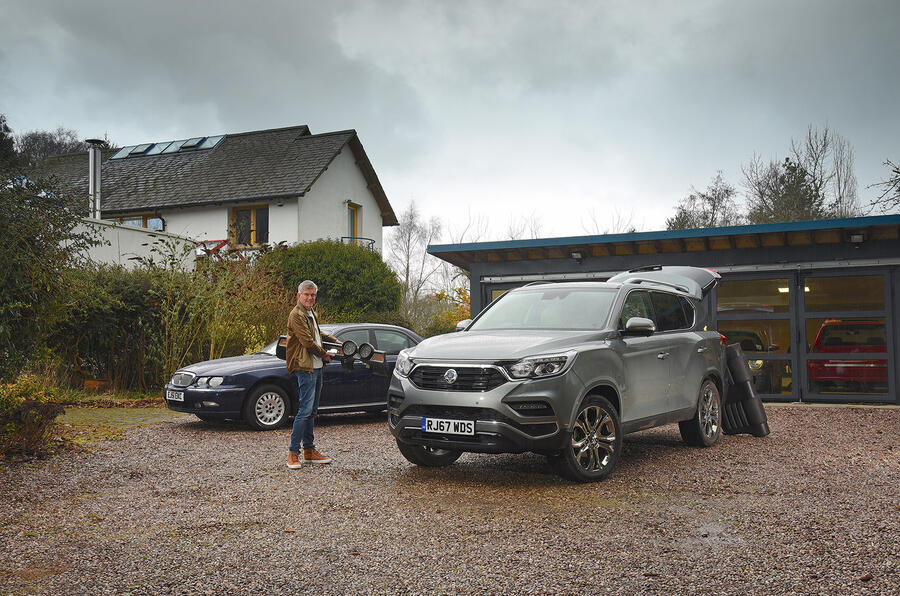 It's not that kind of car, of course. But it presents well, if you can get past the rather weird sculpture of the front wings – and the fit, finish and robustness of our car are good. No rattles have been detected and, apart from a footling difference in panel gap between one side of the tailgate and the other, it's a well-finished vehicle (car isn't quite the word for this beast) both inside and out.
The next six months will tell us whether the Rexton's now quite rare collection of trade-offs works, whether its liveable with daily and how good a tow it can muster. And we'll be enjoying the voyage aboard a pleasingly upholstered cabin.
richard bremner
Second Opinion
This looks interesting as a cut-price Discovery. It is equipped for off-roading, has loads of space and comes with plenty of toys. Given the five-year warranty and uncertainty around residuals, buyers might be temped to get a cheaper one-year-old version with four years of guarantee left.
Will Williams
Source:: Autocar