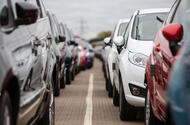 Car demand continues to decline in the UK
New car market shrank by nearly 16% in March, as concerns over diesel engines hurt demand
The slump in demand for diesel-engined cars has continued to hit the UK new car market, which declined by nearly 15.7% year-on-year in March.
Preliminary figures released from the Society of Motor Manufacturers and Traders show that demand for diesel cars was down by just over 37%. By comparison, sales of alternate fuelled vehicles – including electric cars – was up by more than 5%, and demand for petrol cars increased by just under 1%.
While the year-on-year decline of 15.7% is substantially higher than the 2.8% from February, the large number is, in part, becase March 2017 was a record month for UK new car sales. That was, in part, because buyers were snapping up cars ahead of a change in Vehicle Excise Duty in April 2017.
That March figures mean that, for the first quarter of 2018, the new car market has declined by around 12% compared with the first quarter of 2017.
The full SMMT data is due to be released later this morning (Thursday),
Full story to follow.
Read more
February 2018: UK new car market shrinks by 2.8%
Global new car sales: key trends and what they mean
'Diesel-saving' technology could make it to market in two years
Source:: Autocar