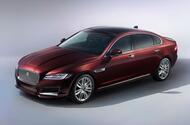 Demand for British models such as the Jaguar XFL could surge if Chinese import tariffs are reduced
World's biggest new car market looks set to slash import costs; UK industry could be one of the biggest beneficiaries
Plans outlined by the Chinese Government to slash car import tariff rates in the country could present Britain's automotive industry with a fantastic opportunity for growth.
UK-built car exports to China, which is the world's largest new car market, surged by 19.7% last year, but that figure could be quickly dwarfed if Chinese president Xi Jinping sticks to new promises.
The president has pledged to lower the country's import tariffs, which currently stand at an unusually high 25%, as part of wider economic change intended to open up China to more international businesses and trade.
The new laws could also enable foreign car companies to enter China independently, rather than via a partnership with a national brand. Currently, non-Chinese brands can only build cars in China via joint ventures, such as FAW-Volkswagen and Chery Jaguar Land Rover.
Such a change could drastically boost the number of car sales in China that come from exported vehicles. The impact this could have would be substantial, not least because the Chinese market is vast. Last year, 23,900,000 cars were sold in China, which comfortably beat the 15,630,000 sold in European Union and European Free Trade Association countries.
How Chinese car makers can succeed in Europe
Boss of the UK's Society of Motor Manufacturers and Traders, Mike Hawes highlighted the opportunity this presents for Britain, which recently tightened Anglo-Chinese relations following UK prime minister Theresa May's visit.
"It's encouraging to hear that China is considering reducing import tariffs on cars as this will certainly encourage demand for Britain's ever-growing range of premium, luxury and sports vehicles,» he said.
"China is a crucial bilateral trading partner in terms of materials and components and, with automotive companies in both countries investing heavily in each other's countries, a strengthened UK-China trading relationship, which respects free and fair trade can only deliver greater dividends."
Growing Chinese demand for UK vehicles could be key in helping to offset dwindling domestic demand here. The UK new car market is set in a trend of decline, which saw sales tumble by 15.7% last month. But UK-built car exports have remained stronger, with January actually seeing foreign demand reach record levels.
Chinese president Jinping's plans for tariff changes have been revealed at a time when he is engaged in an ongoing and very public war of words with US president Donald Trump. Trump recently Tweeted that China's 25% tariff was an example of "stupid trade". He said via Twitter that: «China will take down its trade barriers because it is the right thing to do. Taxes will become reciprocal and a deal will be made on intellectual property.»
More content:
New Ford Focus unveiled as brand's 'most advanced' model in Europe
Hyundai i30 N long-term review
Source:: Autocar