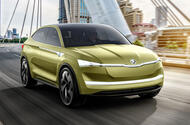 300bhp four-seat crossover is based on VW Group's MEB platform; its design previews the look of future Skoda models
The striking Skoda Vision E electric car concept has been revealed ahead of its Shanghai motor show debut.
The 4.6m long, 300bhp four-seat crossover is based on VW Group's MEB platform, and clothed in bodywork that also previews the future of Skoda design.
Significant for being the first Skoda concept powered by a battery-electric drivetrain, the Vision E is also a "very good guide" to a 2020 production electric crossover and sets out the Czech company's electrification strategy, which promises five fully-electric cars by 2025. The first electrified Skoda will be a plug-in hybrid version of the Superb, launched in 2019.
'By 2025 one-in-every four cars sold by Skoda worldwide should be a plug-in hybrid or have a purely electric drive,' says the company.
Designed in the Czech Republic, the Vision E possesses purposeful proportions with tight front and rear overhangs, a pleasing sweeping roofline and strongly-expressed feature lines. It sits on 2851mm wheelbase, 60mm longer than Skoda's new Kodiaq SUV and 10mm longer than the Superb saloon, which takes advantage of the floor-mounted battery and compact motors and drive components of the MEB electric car platform, which allows Skoda's designers to push the front bulkhead farther forward than in an internal-combustion engine car.
Skoda says there is "seven per cent more internal space" — a reference to the longer interior — and a seating position "25 per cent higher" — a reference to the mildly-raised cross-over roofline. Luggage space is described as roomier than usual.
At 1591mm high, the Vision E is about two-thirds the height between the Kodiaq and Superb, giving it tall-car, crossover proportions.
"We have a very democratic interior, with good space for both the front and rear occupants," says Marko Jevtic, exterior designer of the Vision E concept.
The body features a generous hatchback opening, which further emphasises the Vision E's practicality. Skoda refers to the roofline as 'coupe-like' and it does curve gracefully front to rear as it subsides towards the rear lamps.
To emphasise interior space, Skoda has designed 'clamshell-style' doors in which the back pair hinge rearwards to give access to the cabin unhindered by a central pillar. A favourite of concept designs, it is most likely that the production car will feature a central pillar to ensure adequate side-impact safety.
The production car is also likely to sprout wing mirrors in place of the concept's cameras.
Like all electric cars, there is no need for a conventional grille capable of flowing cooling air to a radiator.
Instead designers now have the freedom to create a new front face using shaped sheetmetal and lighting, which Skoda's designers have dubbed a 'phantom grille' that appears as if it is present, but in reality isn't.
Trapezoidal front LED lamps are pushed to the extremities of the front face and linked by an illuminated bar fashioned from crystal glass, one of the Czech Republic's most famous exports.
The designers have also further emphasised the distinctive 'winged line', the crisp styling feature that runs along the bodyside of all Skoda's current cars. "It is more pronounced, more sensual and more sculptural," says Jevtic.
Inside Skoda's designers have also penned a new look taking advantage of the flat-floor body architecture, which emphasises spaciousness.
A major change compared to a i/c engine car is no need for a gearshift, a freedom that interior designer Peter Olah describes as 'paradise in design.'
Olah's interior features a sweeping dashboard centred on a 12 inch touchscreen, centrally-mounted and arranged in conventional 'landscape' format, rather than Tesla and Volvo's more contemporary 'portrait' orientation.
New to Skoda is a dashboard architecture designed with a prominent step to allow the driver to steady his/her hand as functions are selected on-the-move. Full-width across the dashboard is soft, mood lighting, configurable in different hues.
Publicity shots show it on-brand in green 'Skodaline' colour.
In front of the driver is a two-spoke, multi-function wheel and a second flat screen for basic driving functions.
Key technical details of the Vision E's MEB platform still remain secret.
Skoda has neither released the lithium ion battery capacity, nor the vehicle weight and exact motor output.
The battery pack is capable of quick charging to 80 per cent in 30 minutes and is designed to charge in conjunction with an inductive plate, which can be installed in an owner's drive or garage.
The motor power is rated in total at 225kW (equivalent to 300bhp), but is split between two motors. It is assumed one will power the front axle and another the rear axle, but again these details haven't yet been released.
Although Skoda claims acceleration up to a top speed of 112mph is "particularly smooth and dynamic".
The range is quoted as 500km (310miles), the headline figure that VW also quotes for its version of the MEB, the Golf hatchback-sized I.D, boosted by an 'intelligent brake energy recovery system'.
Source:: Autocar