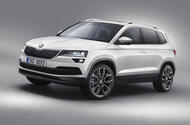 Skoda boss Bernhard Maier says there is "obviously a demand" in a vRS SUV, but the final decision is yet to be made.
A hot Skoda Karoq vRS performance SUV could be the brand's next vRS badged model, according to boss Bernhard Maier.
Speaking at the launch of the Karoq SUV, Maier said "we have from our we have from our customer base very clear feedback that there is obviously a demand in having an SUV with our vRS logo as well."
Read about the Skoda Karoq's reveal here
"All the ingredients which make the Skoda a VRS. We are investigating. We have not made a final decision as of yet. But there might be at least a substantial discussion about that."
The development flies in the face of reports which called into question the future of the vRS brand. The Fabia vRS hot hatch was discontinued for this generation of the supermini. Two generations of Fabia vRS were made, but now the only remaining vRS model in the Skoda range is the Octavia.
If the Karoq vRS were to make it to market, it'd likely share the same 300bhp turbocharged four-cylinder engine as is found in the Seat Ateca Cupra; the closely related cars would also be each others' main competitor in the still fledgling hot SUV market. The Volkswagen T-Roc R would also fall into the same category.
Such a niche product would be a bold move for Skoda, whose brand usually focuses upon practicality and family-friendliness, although being one of the pioneer cars of the segment would be positive for the Karoq vRS's sales prospects.
Read more:
Facelifted Skoda Octavia vRS revealed
Source:: Autocar