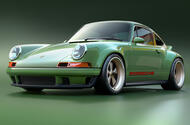 Limited-run restored 911 has been bored out to 4.0-litres with a 9000rpm redline for 493bhp
Singer has teamed up with Williams Advanced Engineering to create this restored Porsche 911, a 964 with 493bhp.
The Singer model is a result of a dynamics and lightweight study carried out with Williams which intended to help meet Singer clients' demand for more power, lighter weight and more hardcore dynamics.
To achieve the 493bhp figure from the car's original 243bhp, Singer has bored out the Porsche's original 3.6-litre flat six engine to 4.0-litres, and has increased the car's redline to 9000rpm. The engine was revealed last year, but the full car has just made its online debut.
The car weighs in at 990kg, thanks to a body and chassis largely made of carbon fibre, titanium, magnesium and aluminium. Lightweight mechanical components also help to keep the weight down, including magnesium and titanium used for the camshafts and cylinder heads.
The car rides on Fuchs-like centre-locking 18in magnesium wheels shod with bespoke Michelin Pilot Sport Cup 2 tires. The Hewland six-speed gearbox is also magnesium, while the brake discs are carbon composite units with Brembo calipers.
Inside, the blood orange and absinthe body colours extend to the interior, which has orange leather-trimmed bucket seats and exposed bodywork.
The development drivers are Marino Franchitti and Top Gear presenter and former Autocar staffer Chris Harris, and the cars are being built at Williams' Oxfordshire base, in their own build facility.
No performance figures have been released for the car, although production has been confirmed to be capped at 76 units. Prices depend on the independent specification of each car.
Read more:
Williams Advanced Engineering boss on why his company is a world leader
Meeting Singer's tribute to the Porsche 911
How to buy the best pre-owned Porsche 911 – used car buying guide
Source:: Autocar