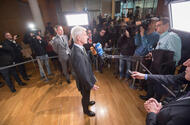 As one of the biggest scandals to rock the car industry, Dieselgate made and ended careers. But another controversy might be just around the corner
Dieselgate seems like the distant past now, such is the pace of the automotive industry and Volkswagen's remarkable turnaround.
In fact, it's so distant that the European Union has outlined the next step of its emissions-busting strategy: to cut CO2 emissions by 40% by 2030. Its automotive plan in this? To cut fleet emissions by 30% between 2021 and 2030 – 2021 being the year in which the 95g/km fleet limit mandate comes into effect.
Uh oh. While Volkswagen's actions were not in any way acceptable, those who have blamed the debacle on mounting pressures on engineers in light of strict emissions legislation, thus causing rogue agents to look for a shortcut, could have a point.
Realistically, we'll likely never really know the true cause of Dieselgate.
So let's go back to more recent times, then, when Mercedes-Benz boss Dieter Zetsche used a 20% target reduction in CO2 output between 2021 and 2030 as an example of a steep decline. So one would expect the 30% reduction figure now put forward by the EU would garner quite a strong reaction from Dr Z.
Since Dieselgate, the industry has been on high alert, so another scandal of such scale and reach is profoundly unlikely. But with such pressure exerted on an already pressured car industry, something could give – be it dodgy emissions tests or claimed ranges for hastily developed electric vehicles rushed through the door.
The EU's plan to cut vehicle CO2 emissions by 30% between 2021 and 2030 isn't as clueless a move as the UK Government's ban on non-electrified cars by 2040 (at which point, it has been established, nobody will be driving those anyway), but it's not hard to imagine the possible shortcuts that might be taken, given the headline-grabbing CO2 and fuel economy figures that are claimed for plug-in hybrids.
Source:: Autocar