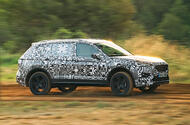 Spanish firm adds an important piece to its model jigsaw with XC60-rivalling SUV
It would be easy to think the Tarraco is merely an exercise in filling a large SUV-shaped hole in Seat's model line-up.
The Ateca and Arona have been hugely successful for the firm, so with the small and medium-sized SUV segments covered, a large one is pretty much all that's missing. And oh, look at that, the Volkswagen Group just happens to have a proven architecture for just such a machine.
Seat chiefs refer to the new Tarraco as a range-topper in more than just size. It's being positioned as a more premium offering, with higher specs and more kit – a move enabled by, and building on, the success of the Ateca-led model offensive that came before it.
If it's going to be a fitting flagship, of course, it has to deliver the goods performance-wise. Our outing in some near-production-ready prototypes suggests it has all the tools needed to do so.
Understanding the Tarraco model line-up
The Tarraco will launch with two petrol engines – a 148bhp 1.5-litre and 187bhp 2.0-litre – and two 2.0-litre TDI diesels, producing 148bhp and 178bhp. Entry-level models will be front-wheel drive with a six-speed manual 'box; higher-spec cars get a seven-speed auto and an all-wheel-drive system that automatically sends 50% of the power to the rear axle when needed.
We sampled the 1.5-litre petrol and the top-spec diesel, both in Xcellence trim. Although much of the detail was hidden, such models feature a digital driver info display, an 8in infotainment screen and plenty of driver assistance systems.
Although the prototypes sported camouflage livery, that couldn't mask the sharp lines the Tarraco shares with its smaller siblings, enhanced by narrow, angled headlights. Neither did some wacky wrap hide the family resemblance the Tarraco shares with the Skoda Kodiaq and VW Tiguan Allspace, also built on the VW Group's MQB long-wheelbase platform.
That family resemblance is clear both when you sit inside the Tarraco – a sensation likely heightened by the cloth concealing much of the Seat-specific detail on the prototype's dashboard – and when you drive it. It's crisp and accurate to steer, and even the entry-level 1.5 TSI is capable of easy motorway cruising.
Front MacPherson struts and the multilink rear suspension (a set-up that is standard on all Tarraco models) have been tuned to ensure a smooth drive.
As with the Ateca and Arona, Seat has focused on trying to offer a more engaging drive than class rivals. Six drive modes are available, including Sport, Off-Road and Winter settings. The Tarraco offers pleasing levels of engagement on flowing roads, albeit with the inevitable caveat that it remains a large, high-riding SUV.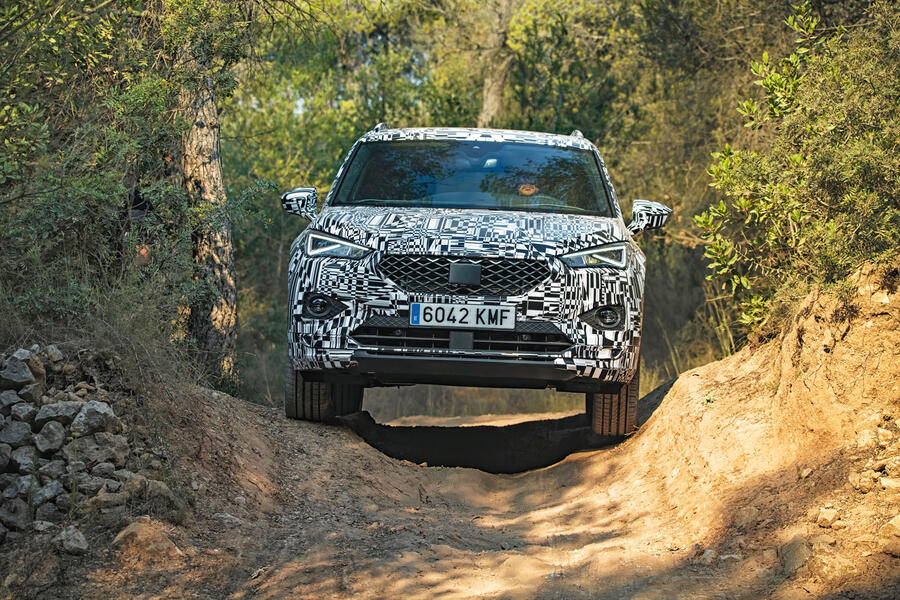 Taking the Tarraco off-road
Our test also included a drive on a challenging off-road course in a 2.0 TDI AWD model, which provided ample demonstration of the Tarraco's 4×4 abilities. In Off-Road mode, which provides extra ground clearance and driver assists such as Hill Descent Control, the Tarraco tackles rough terrain, big rocks and sharp inclines with aplomb, should buyers actually wish to use their large SUV in such a way.
What Tarraco buyers will use it for is transporting lots of people and gear. When they do, they'll find the Tarraco comfortable and spacious. It is 4735mm long, with a wheelbase of 2790mm, and 1658mm high. That makes it 38mm longer than a Kodiaq, but 18mm lower. Seat also claims 760 litres of luggage capacity in five-seat form – 40 litres more than a Kodiaq.
In terms of dimensions, then, the Tarraco will fill that large SUV-shaped hole in Seat's line-up.
On the strength of our early drive, there are promising signs that it can fill that hole in style by offering more than just space, practicality and comfort.
Seat Tarraco 1.5 TSI Xcellence specification
Where Sitges, Spain Price £24,700 (est) On sale early 2019 Engine 4 cyls, 1498cc, turbocharged, petrol Power 148bhp at 5000-6000rpm Torque 184lb ft (est) Gearbox 6-spd manual Kerb weight tbc Top speed tbc 0-62mph tbc Fuel economy tbc CO2 tbc Rivals Skoda Kodiaq, Volvo XC60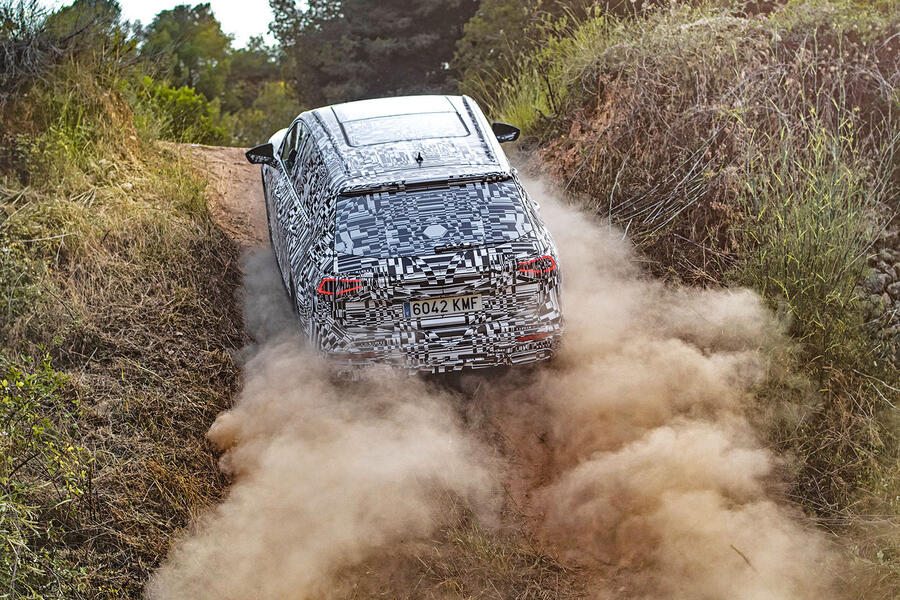 Read more
Seat Tarraco seven-seater design previewed in new video
New Cars 2018: What's coming soon?
Source:: Autocar