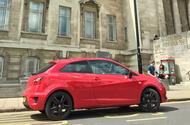 The Ibiza Cupra has us impressed with its looks, but can it match rivals on the B-roads of Yorkshire?
I've grown to really like the way our Seat Ibiza Cupra looks.
It's not particularly eye-catching when viewed at a glance, but look closer and the angular edges, LED lighting and compact body shape make it, to my eyes at least, one of the meanest-looking cars in its class.
The interior may have too much of a generic Volkswagen Group look for some, but that's not necessarily a bad thing. I mean, there's no denying that VW interiors are brilliantly functional.
Source:: Autocar