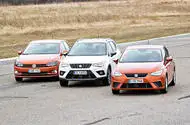 Credit: Tekniikan Maailma magazine
Left-rear passenger belt came undone during Finnish magazine's high-speed lane-change tests of the Arona, Ibiza and Polo
A seatbelt safety issue that can leave a rear passenger unbuckled during a high-speed manoeuvre has been identified in the Seat Arona, Seat Ibiza and Volkswagen Polo.
Finnish automotive magazine Tekniikan Maailma found that the left-rear buckle in all three models, which are based on the Volkswagen Group's MQB underpinnings, was released when the cars were carrying five passengers.
The issue appears to relate to the location of the middle buckle, which is mounted slightly higher than the one to its left. During a high-speed lane-change to the left, the weight of the left passenger pushes the left buckle onto the right buckle at an angle that presses its release button (see illustration below).
Tekniikan Maailma said this happened on numerous occasions in each identified model. It tested two Aronas in order to confirm that the problem wasn't isolated to these particular cars and said that the problem hadn't been found in prior tests because none had been conducted with five passengers aboard.
"According to our judgement, the unlatching is caused by a design fault," the magazine said in a statement. "The easiest fix for the problem would be either to shorten or lengthen the attaching belt of the middle buckle by a couple of centimetres."
Seat has confirmed that it has found the same issue during new tests. A spokesman for the brand said: "We're working on possible solutions for it and will inform you about the final decision as soon as possible."
Volkswagen is understood to also be testing the issue. It too will provide a response once its tests have been conducted.
More content:
New ultra-capacitor tech could drastically boost battery EV range
Source:: Autocar