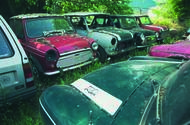 THE NEARLY CAR MUSEUM: There's 18 Minis and counting here
We meet three motoring magpies who have made it their mission to save old, often unsalvageable cars from the crusher
It's amazing what you see through the crack in a fence. I was in Devizes recently when I looked through one and saw a collection of rusting cars, some dating back to the 1950s.
I was driving to Caen Hill with its flight of 20 canal locks – but first, I thought, I must find out about these old motors.
So I took the next turn and found myself in the yard of a big waste management company. A chap appeared from one of the buildings to ask if he could help. I asked him who the old cars belonged to.
"They're the boss's," he said. "He's going to put them in a museum." Unless I'm opening my wallet, it's not often my heart skips a beat. It skipped one then. Unfortunately, it was pouring with rain. I drove off, determined to return.
Find a used Triumph on PistonHeads
Of course, I shouldn't have been surprised by the sight of all those old cars. The fact is, scrap cars are a big problem. In 2012, councils reported 40,876 cars as having been abandoned. By 2016, this figurehad risen to 147,616.
But these cars are just the ones councils know about. Away from their prying eyes are thousands more relics – some, like the ones in Devizes, locked away in yards or outbuildings, but many more parked up on driveways or in gardens where they sit rotting, often to local residents' frustration.
Why do people hang onto their old cars when they could have traded them in, sold them or scrapped them? Two car hoarders I encountered give their reasons later, but first I meet that boss of a Devizes-based waste management company who decided to save some old cars rather than crush them…
THE NEARLY CAR MUSEUM
Nigel Grist is the owner of Grist Environmental, a waste management and recycling company he founded 45 years ago with £100 and a 15 cwt Ford Thames pick-up. Those were his cars I'd seen, Nigel tells me when I return to Devizes to meet him. Nigel says he's been collecting scrap cars ever since he started his business. Those that are too good for the crusher he puts to one side. He has a bodyshop that has restored one or two and plans to display these, along with the most interesting unrestored ones, in a new eco-friendly museum he intends to build on a 50-acre site outside Devizes.
Barn finds of old cars are often in the news but what I see when I round a corner in Nigel's yard is more like a field find. The few cars I'd glimpsed through the fence that day were just the tip of a 'carberg' of old British metal.
Find a used Mini on PistonHeads
At the back, a gaggle of Minis; I stop counting at 18. In front of them, an ocean of cars including two drab green Ford Popular 103Es circa 1953. One is merely a shell but with what appears to be a reconditioned engine and new front chassis rails, the other all but complete – and both separated by a shabby Morris Marina van of the 1980s.
Close by them, that old bank manager's special: a smart, black Rover P4 (circa 1950s) towering over a bright red Morris Minor pick-up. Elsewhere, a Sunbeam 90 from the mid-1950s, and a remarkably well-preserved mid-1960s Vanden Plas Princess 4-litre R (the only mass-produced model that Rolls-Royce permitted to be powered by one of its engines) parked in front of a decaying Triumph 1300. Just ahead of them, the perfectly salvageable shell of what I reckon is a two-door Hillman Avenger.
A surprisingly complete-looking Morris Minor stands slightly to one side of the pack. Its green paint has faded but its chrome brightwork gleams and what rust there was appears to be superficial. The interior is amazing: no tears, no missing or sagging trim, and fittings all securely anchored.
Nigel and his project manager, Jonathan Taylor, chuckle as I stagger among the treasures. Scimitar GTs, Triumph 2000s, a lovely burgundy-coloured Jaguar XJS, more Minis including a couple of rare vans and one converted to accept a wheelchair, Austin Ambassadors, a couple of Mk1 Range Rovers, Triumph Spitfires beyond saving… "There are more in the shed, behind the Bedford H A van and flat-bed truck I bought the other day," says Nigel. As my eyes adjust to the gloom inside the shed, I realise I'd nearly walked into a mint Austin Princess.
"It's a one-owner car, done 6000 miles," says Nigel. "We've not done a thing to it. Its lady owner thought it was too big, put it in her garage and forgot about it. She sold it to me when she moved into a smaller place."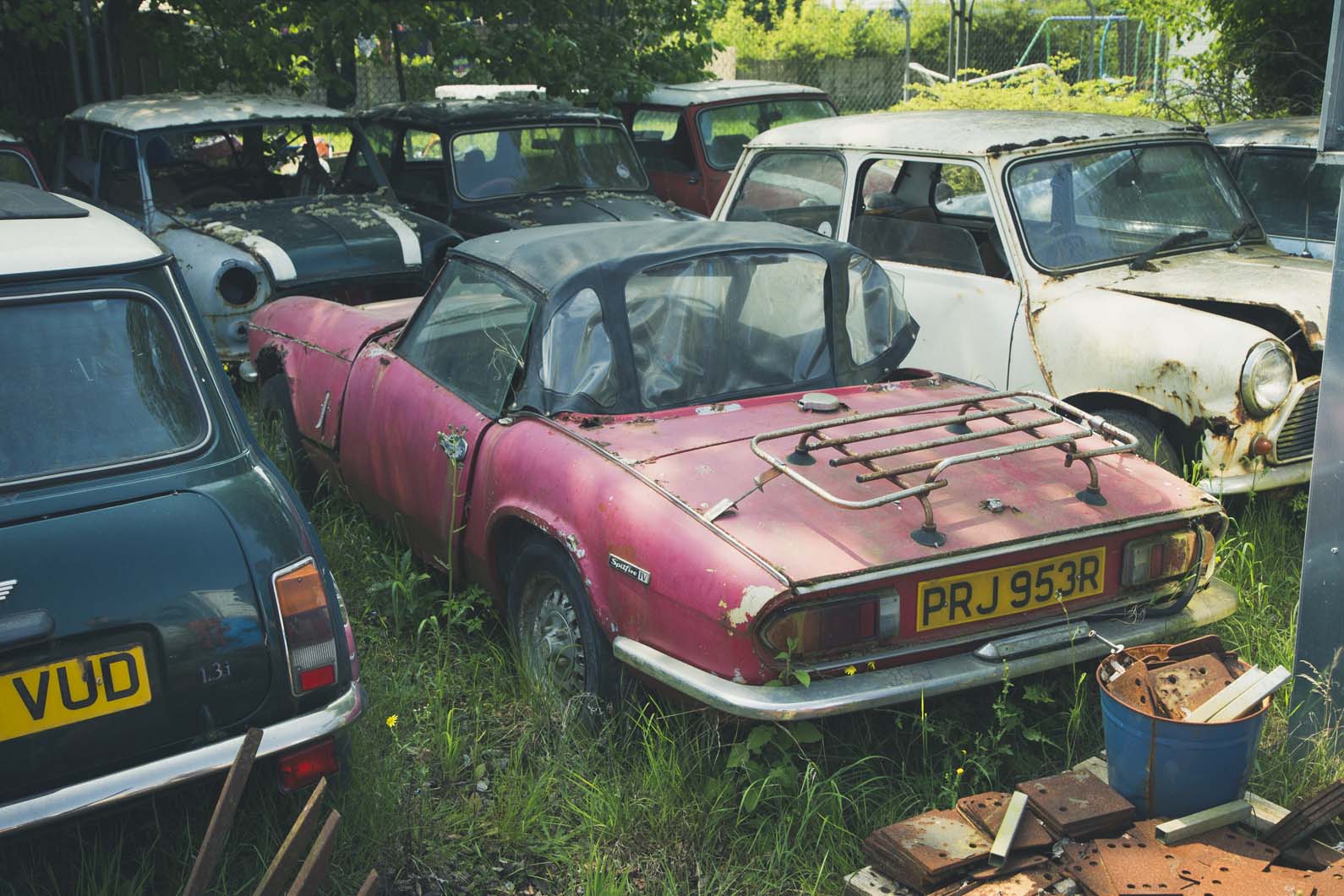 In a second shed, I am greeted by the sight of at least 15 cars, some of them are stored by Nigel's team, the rest road worthy and in original condition. They include a 1988 Ford Sierra Cosworth, a 1936 Vauxhall 14-6 and a Scimitar GT. Also, a Rover 75, a handful of Jags and Daimlers, a Mini Cooper, a Ford Granada Mk2, an Austin A35, a Triumph Dolomite and a London taxi.
Among them stands another of Nigel's completed restoration projects, and his favourite car, a Morris 1100. "It's one of the first we restored," he tells me. "I must have scrapped hundreds of these. I'd cut the doors off, tip the shell over to get underneath and then cut through the front sub frame to get the engine out. Then I'd attack the chassis with an axe. Most were so rotten, only the Hydragas suspension was holding them together. "
The museum Nigel is planning "will celebrate saving and rescuing stuff, including cars", he said. "It'll be the antidote to today's throwaway society. "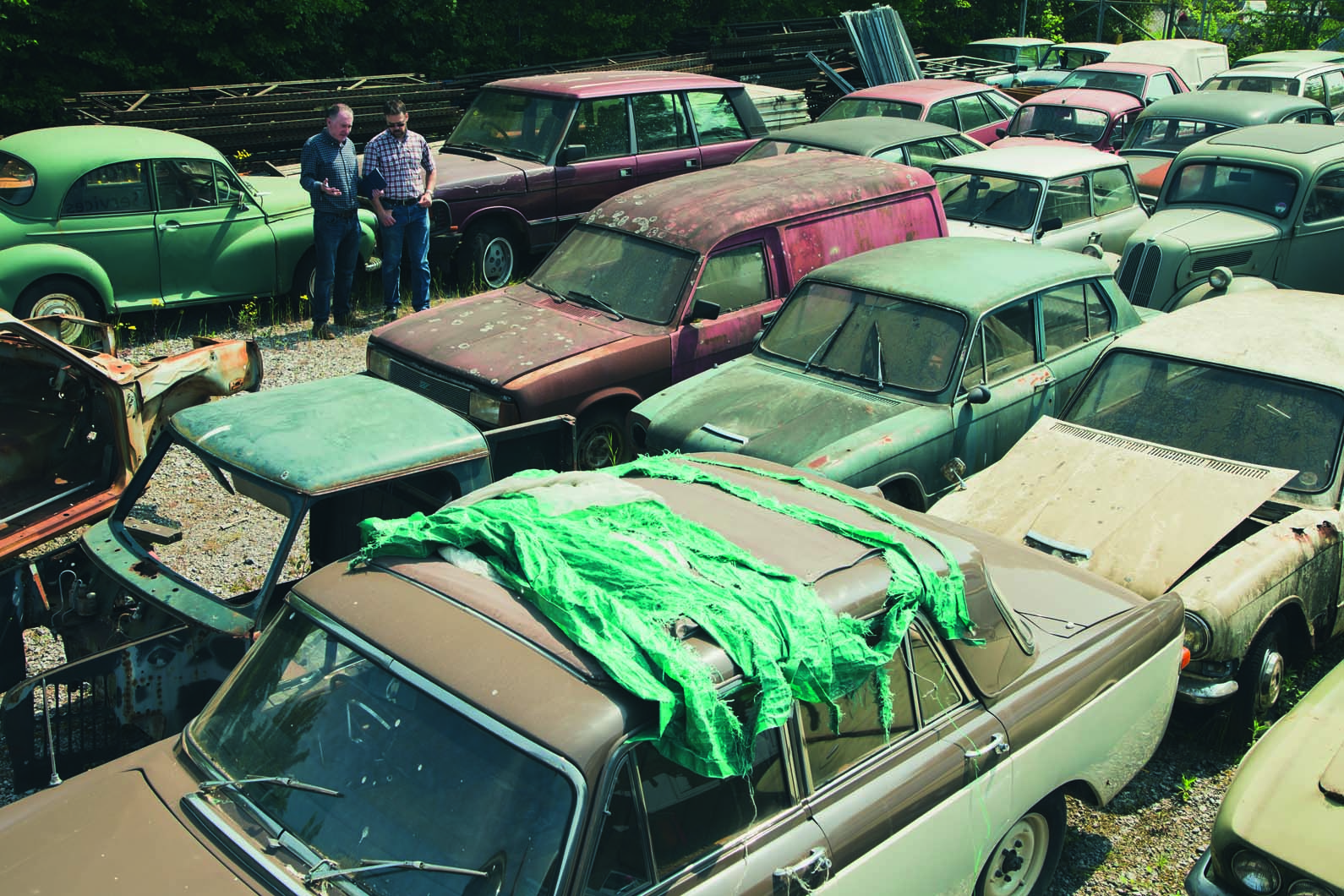 THE CITROEN …read more
Source:: Autocar