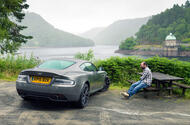 The last hurrah for the Aston Martin DB9 is this, the 540bhp GT. We take one for a final fling in Wales to savour what still makes a DB9 so special
There is no convoluted plan. Normally for a 'goodbye' drive of a car, we'd go somewhere regarded as marginally relevant.
Start at the Aston Martin monument near Aston Clinton, or go to that road in the film Skyfall, or something convoluted or tenuous like that. I can't be doing with that 'take it to this bit, pose for a poignant picture' malarkey.
The Aston Martin DB9 is a …read more
Source:: Autocar