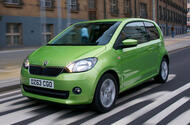 The Skoda Citigo beat the Volkswagen Up and Seat Mii to the top spot
Skoda's city car named as the safest used first car by a panel of experts, beating its sibling models from Volkswagen and Seat
The safest used car young drivers can buy as their first set of wheels has been revealed.
The Skoda Citigo topped the table of the safest used cars for young people, followed closely by its sister cars, the Volkswagen Up, in second place, and the Seat Mii. The Toyota Yaris and Kia Rio completed the top five, in that order.
The award was devised by Co-op Insurance and Thatcham Research, with the intention of changing the attitudes of both young car buyers and their parents.
According to Co-op Insurance, price, insurance and running costs, the age and even the colour of the car are all more important considerations among young people than safety.
Given that the highest proportion of accidents involve drivers aged 17-24, Co-op Insurance and Thatcham hope to make safety a higher priority.
James Hillon, director of products at Co-op Insurance, said: "The fact that almost a third of young drivers have been involved in a road traffic incident in the first 6 months of driving highlights just how important it is to have a safe vehicle.
"The research gives us real insight into what young people are looking for when it comes to choosing their first car, and it's concerning to find that so few prioritise safety.
"While we recognise that cost is an important factor for many, you cannot put a price on safety. We want to intercept and engage young drivers on the importance of putting safety over price when purchasing a first car. Later this year we'll be hosting a road safety live stream to engage hundreds of 17-24-year-olds on the importance of safety when choosing a first car."
Matthew Avery, director of research at Thatcham, added: "My advice to parents buying their child a first used car: do not buy the oldest or cheapest car you can find. There are plenty of good deals out there for newer second-hand cars that have a five-star Euro NCAP test rating and are fitted with Electronic Stability Control (ESC) and Autonomous Emergency Braking (AEB) as standard.
"AEB and ESC are second only to the seatbelt in terms of being life savers. They are critical in preventing the most common crashes that young drivers have."
Judging for the award is based on a formula ranking devised by the Co-op and Thatcham Research. Cars had to be in the small car or city car categories, have a five-star Euro NCAP rating, CO2 emissions of 120g/km or less, be available to purchase on the second-hand market for £5.000 or less and have a low insurance group rating.
In the end, the Citigo pipped its fellow Volkswagen Group cars on account of its greater ubiquity and slightly lower price, although Avery confirmed that the difference between the three cars was marginal.
Co-op and Thatcham also revealed their overall Safe Used Car award winner at the same time. For the second year in a row, the Volvo V40 (pictured above) with safety pack topped the table; the Mazda 3 rose four places to finish second, while the Toyota Auris, Volkswagen Golf SV and BMW 2 Series Active Tourer, all new entries, made up the top five.
Source:: Autocar