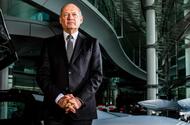 Ultra-successful company boss set to bow out of McLaren after 37 years, following row with co-owners
Ron Dennis, the man who led the McLaren team that created the iconic F1 road car, established today's standard-setting road car division and which scooped numerous Formula 1 world titles, setting the standards by which teams in the sport today operate, is reported to have sold all of his shares in the firm.
If true, the decision – reported by Sky News but not confirmed by either Dennis or McLaren – ends a 37-year association between the two sides, which began when the team was struggling for success in F1 in 1980. Today, the McLaren Group is valued at more than £2bn.
The split would be formalised by Dennis transferring his remaining 25% stake in McLaren Technology Group and 11% shareholding of McLaren Automotive. He is reported to have received £275m for the shares and, as such, he will have no role at McLaren in future.
Dennis, who turned 70 this month, was awarded a CBE in 2000. He rose to prominence when he was placed in charge of the then struggling McLaren team in 1980, leading it back to race victories and world championships. Drivers who won world titles while he was at the helm of McLaren were Niki Lauda, Alain Prost, Ayrton Senna, Mika Häkkinen and Lewis Hamilton.
Dennis and his co-owners of the McLaren Group fell out in around 2014 for unspecified reasons. That triggered a chain of events where he attempted to buy McLaren back from them. However, when he was unable to raise the funds to do so, they effectively sidelined him at the end of 2016 by removing him from any positions of control of the company he part-owned.
Earlier today McLaren Automotive announced its fourth year of profits in only its sixth year of existence. The company is believed by some analysts to have be more successful financially than any six-year-old car company in history.
Ron Dennis's highs at lows at McLaren
Ron Dennis – high points:
– Once a humble mechanic, Dennis successfully rose through the ranks of motorsport team ownership to the point that he was placed with – and then in 1981 bought – the struggling McLaren team. That season the team started winning races again, and soon after world titles. From persuading Porsche and Honda into F1, to aligning with sponsors like Marlboro, to introducing carbonfibre construction to the sport, Dennis was regarded by many as a revolutionary thinker wrapped up in the body of a man desperately trying to be as straightforward as possible.
– From 1988-1991 McLaren – and Honda – were the undisputed heavyweight champions of F1. During that time the team won four consecutive constructors' titles and one of Alain Prost or Ayrton Senna won the world drivers' title each season. In 1988, of course, Prost and Senna won 15 of the 16 races – a so nearly perfect result, but one which Dennis memorably conceded "keeps us hungry – because we know we can do better".
– Dennis made numerous drivers rich, many race winners and a select few world champions. But his relationship with some wasn't just about winning. In Senna he found someone who shared his intensity, and they shared a spree of world titles. For Mika Hakkinen – champion for the team in 1998 and 1999 – the relationship was almost father and son-like. And then there was Lewis Hamilton, who was signed by Dennis aged ten and nurtured to be world champion in 2008.
– With the F1 team at the height of its powers, Dennis set his sights on diversifying McLaren's income streams. It's hard to believe, but the McLaren F1 road car wasn't a sales success when it was unveiled in 1992. A project to take the land speed record was also aborted. Key to Dennis's vision taking off was the creation of the Norman Foster-designed McLaren Technology Centre, the futuristic Woking headquarters for the team that opened in 2004. In 2011 McLaren Automotive was launched, and today McLaren employs engineers working on everything from high-powered battery packs to designing Olympic bicycles.
Ron Dennis – low points:
– How the word 'Spygate' must jar in Dennis's throat. A 780-page document containing sensitive data about Ferrari was discovered at the home of former McLaren chief designer Mike Coughlan – and the sport's governing body, the FIA, went to town, fining the team almost £50m and stripping it of its 2007 constructors' points. The blameless Dennis, remember, went straight to the FIA and told it about the document the moment he was informed of its existence.
– For all his success nurturing mercurial talents, Dennis has also fallen out with his fair share of superstars. That Lewis Hamilton would break the bond that had formed between them was hard enough; that he would add two more world titles (to date) worse, not least because he remains the last McLaren driver to stand on the top step of the podium. Celebrated managerial fallouts led to the loss of Adrian Newey, the pre-eminent designer of his generation, and Paddy Lowe, who joined Hamilton at Mercedes, too.
– To be booted aside by the team you rescued, made great and led to glory once would be remarkable – but for it to happen twice, as has happened to Dennis in the twilight of his McLaren years – is indicative of both his difficult personality and modern corporate cultures. Never one to back down, Dennis even went to court to try and cling on at the helm of the F1 team at the tail end of last year – although given its annus horribilis courtesy of Honda, he may now be heading off into the sunset with a wry smile on his face.
Source:: Autocar