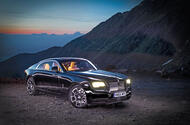 «You can't get blasé about a journey in a car costing as much as four Porsches»
The Wraith Black Badge is billed as Rolls-Royce's most driver-focused model yet. We've launched it up the hairpin-strewn Transfagarasan pass in Romania to discover whether this 2440kg luxury car really can entertain
Amazing cars deserve amazing destinations.
As statements go, that one might be short, sweet and obvious, but it's all the justification we recently needed to accept an out-of-the-blue offer to collect a £300,000 Rolls-Royce Wraith Black Badge coupé from Munich – where all Rolls bodies start their lives – and drive it to a destination every bit as remarkable as the car itself.
What destination? Well, ever since 2009, when a trio of ageing TV reprobates touted it as Europe's greatest driving road, we'd been searching for an excuse to take a true performance car to the famed Transfagarasan pass in central Romania. At long last, this looked like the opportunity.
The Rolls looked the car, too: the first model in the company's BMW history to be wholeheartedly steered towards performance drivers by sharpened engine responses, 21in carbonfibre-rimmed wheels, a 0-60mph sprint time of just 4.3sec and more agility from a suspension deliberately configured with – how shall we put this? – less relaxed spring and damper rates.
To go with the mechanical changes, Rolls-Royce has opted for its boldest exterior treatment yet: who'd have imagined an officially sanctioned black Wraith with its grille centre and surround, plus the Flying Lady herself, all finished in gleaming black? And the interior: any Wraith is wonderful, but this one is a work of art, with headlinings that mirror the Milky Way and a new form of decorated, aluminised carbonfibre for key interior expanses.
Rolls-Royce Phantom revealed as eight-generation luxury flagship
On the map, the Transfagarasan pass is a defence road connecting northern and southern Romania across formerly impassable terrain. It was opened in 1974 to allow Romania's army a quick response if Soviet forces (which had recently invaded then-Czechoslovakia) decided to try it on.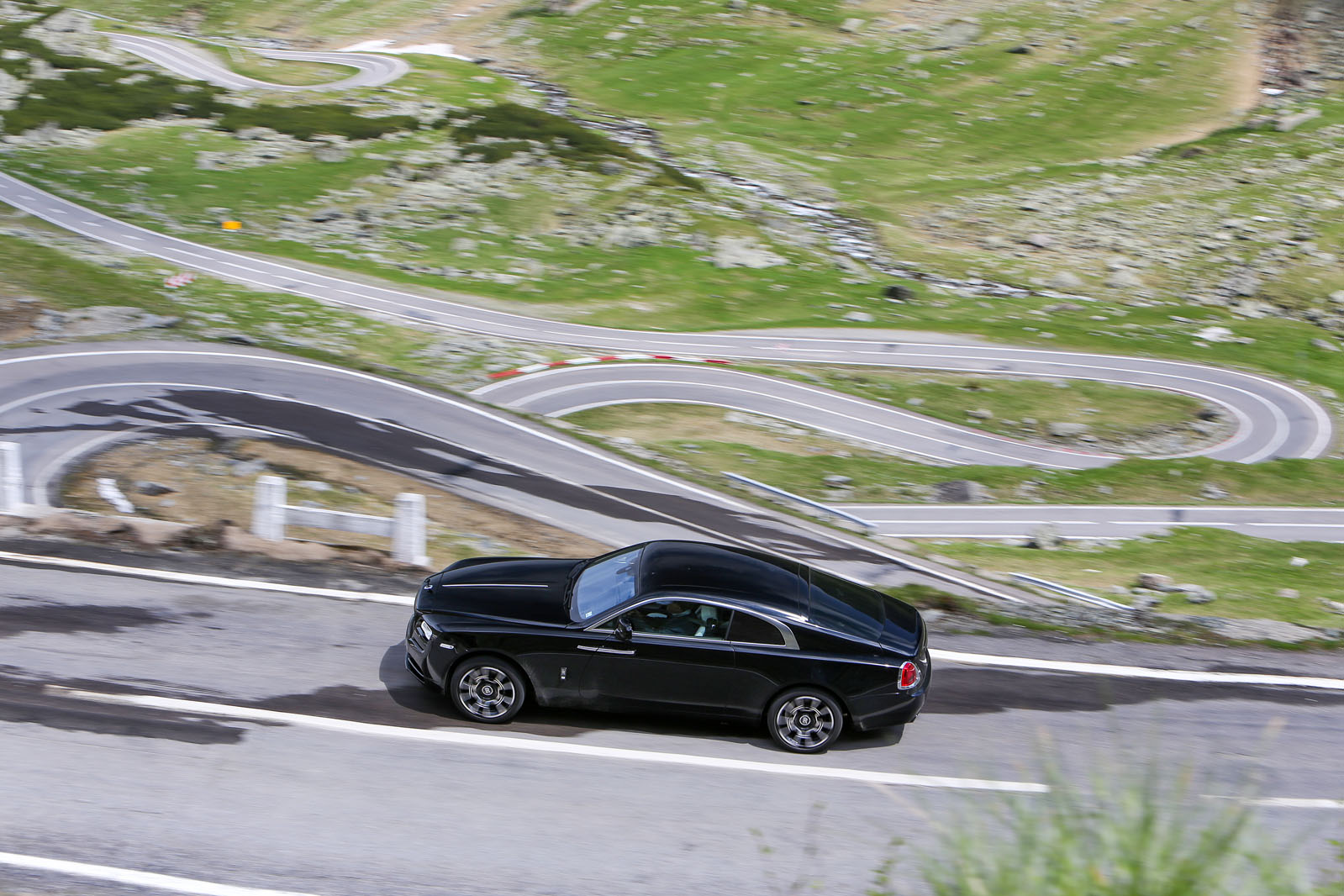 However, in driving folklore, this place is a miraculous collection of challenging and mostly wellsurfaced corners of all kinds, hairpins to sweepers, that rises 6700ft from the Transylvanian plains around Sibiu on the northern side, through forests on the lower slopes to rocky expanses and finally a snowline.
It has long been labelled Ceausescu's Folly after the late, unlamented Romanian dictator, mainly because its precipitous slopes and arctic working conditions reputedly resulted in the deaths of hundreds of workers. In exchange for all this sacrifice, the nation was left with a road so high and so difficult that it can only properly be opened three or four months of the year; though, predictably enough, the president built himself a hunting lodge close to the summit.
Forty years on, Romania has embraced democracy and Transfagarasan has become a tourist attraction, well known to press-on bikers, performance car enthusiasts, camper-vanists, skiers in winter and all lovers of spectacular scenery who have the grit to get there in the first place.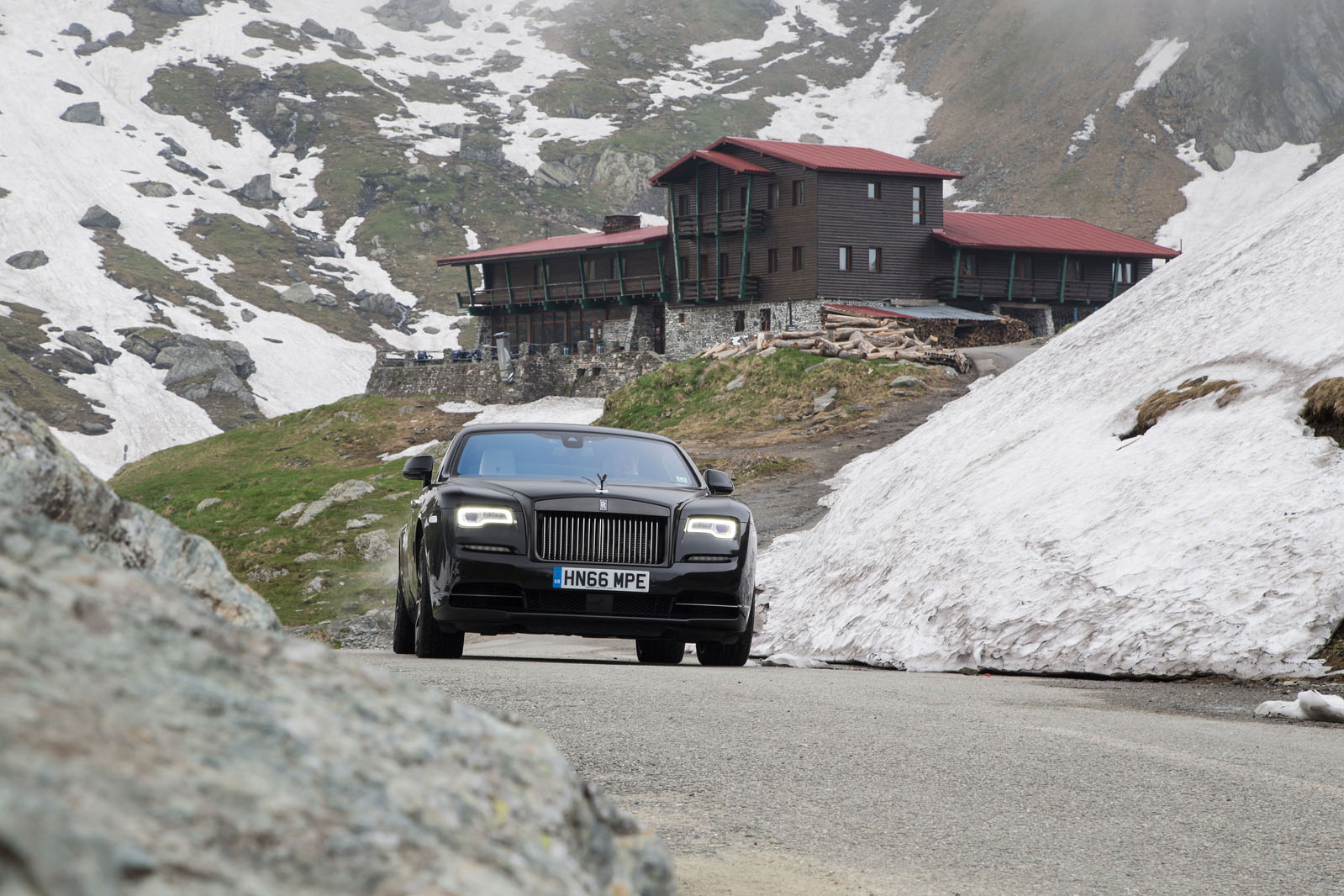 We flew into Munich at about 10am on a sunny morning, to be met by an obliging Rolls man who took us on a brief tour of the Wraith's simple controls, invited us to sign on the dotted line and briskly departed, leaving us to our 1800-mile, four-day round trip. The plan was loose but tight, as it were: two days to central Romania, a day driving and photographing, then two days back. And no room for error.
We set off eastwards slowly at first, taking time to get to know the car. This isn't my first Rolls or my first Wraith, but you can never get blasé about starting a journey in a car whose nose reaches halfway to the horizon, and which costs as much as four Porsches. At first, you're hard pressed to figure out what's going on under the bonnet because the Wraith is so quiet: despite its 624bhp, the 6.6-litre V12 is often inaudible.
Rolls-Royce Sweptail: what it's like to drive a bespoke one-off
The feeling is reinforced by the fact that there's no tachometer; instead, you get a dial that shows how much of the car's engine potential you're using – most of the time, it's about 10%. There were times I found myself thinking Rolls-Royce had defined an entirely new kind of powerplant: the engine that isn't there at all.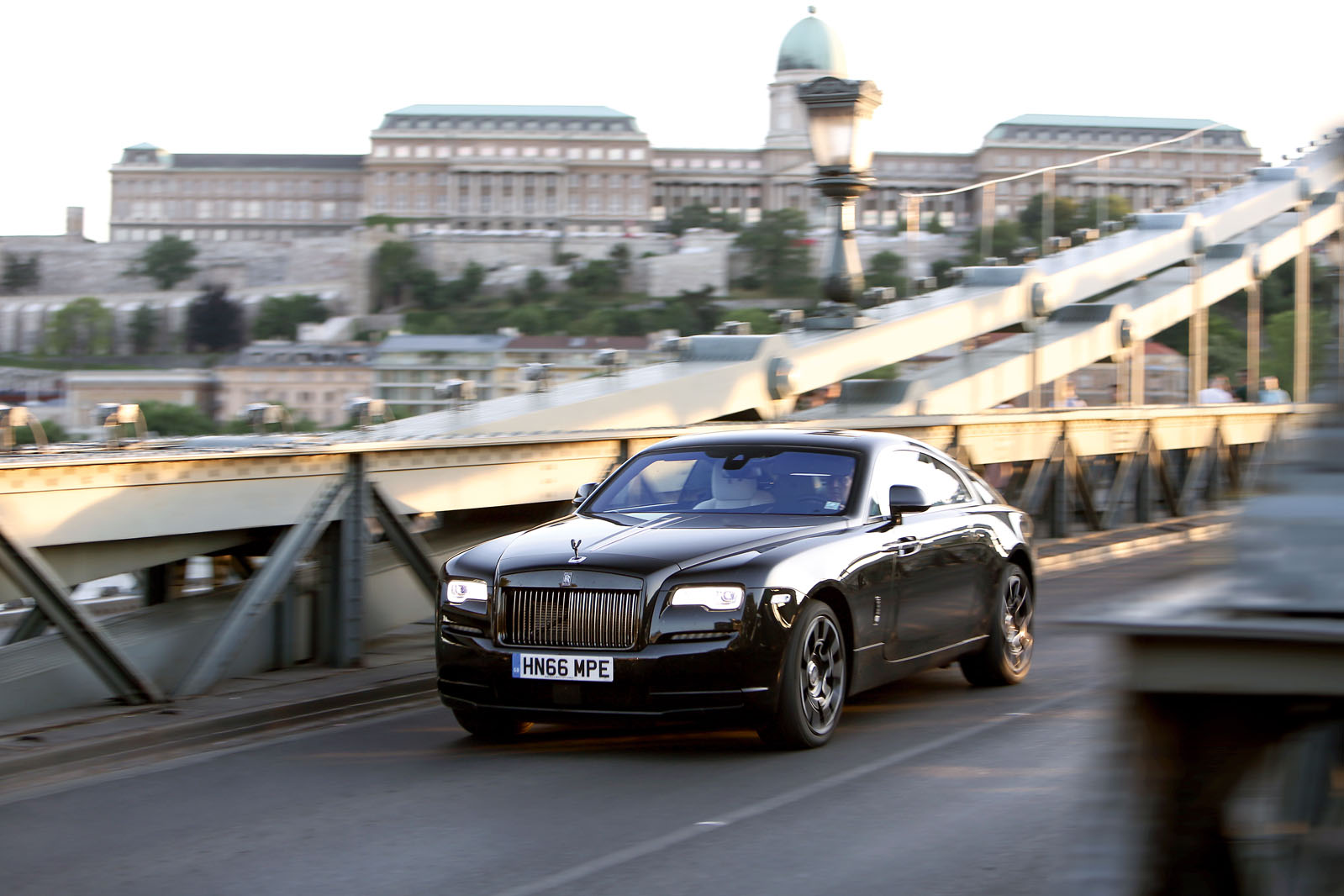 Plenty more feels different about this car. The length of the nose, for one thing. Compared with its close relative the Ghost saloon, they've shaved 20cm off the Wraith's overall length (and wheelbase) but it's still 15cm longer overall than a Bentley Bentayga. Curiously, though, it doesn't feel excessively wide, so once familiarity has led to a feeling of full command (give it 30 minutes), the Wraith feels positively agile. We're established on the autobahn, heading for Passau and the Austrian border on fundamentally flat roads at ever-increasing speeds.
I'm interested to rediscover, in (partly) unrestricted Germany, what it feels like to cruise properly fast, given that most of Europe now ruthlessly imposes a 130km/h (80mph) limit. For a few minutes, 100mph feels immoral. Then I notice we're doing 115, seduced by the uncanny refinement, the long wheelbase that almost completely kills pitch and promotes great directional stability. We do most of an hour at 120mph and, when we have to slow back down to 50mph for roadworks, it seems dog-slow.
At the Austrian border, you have to pay €8 for a vignette that will allow you to drive in the country for eight days. Queueing at a roadside booth to buy a sticker seems primitive until you compare it with the time and soul-sapping procedure of constantly queuing at tollbooths on French autoroutes to pay money that mainly goes towards the maintenence of toll positions and pay operators.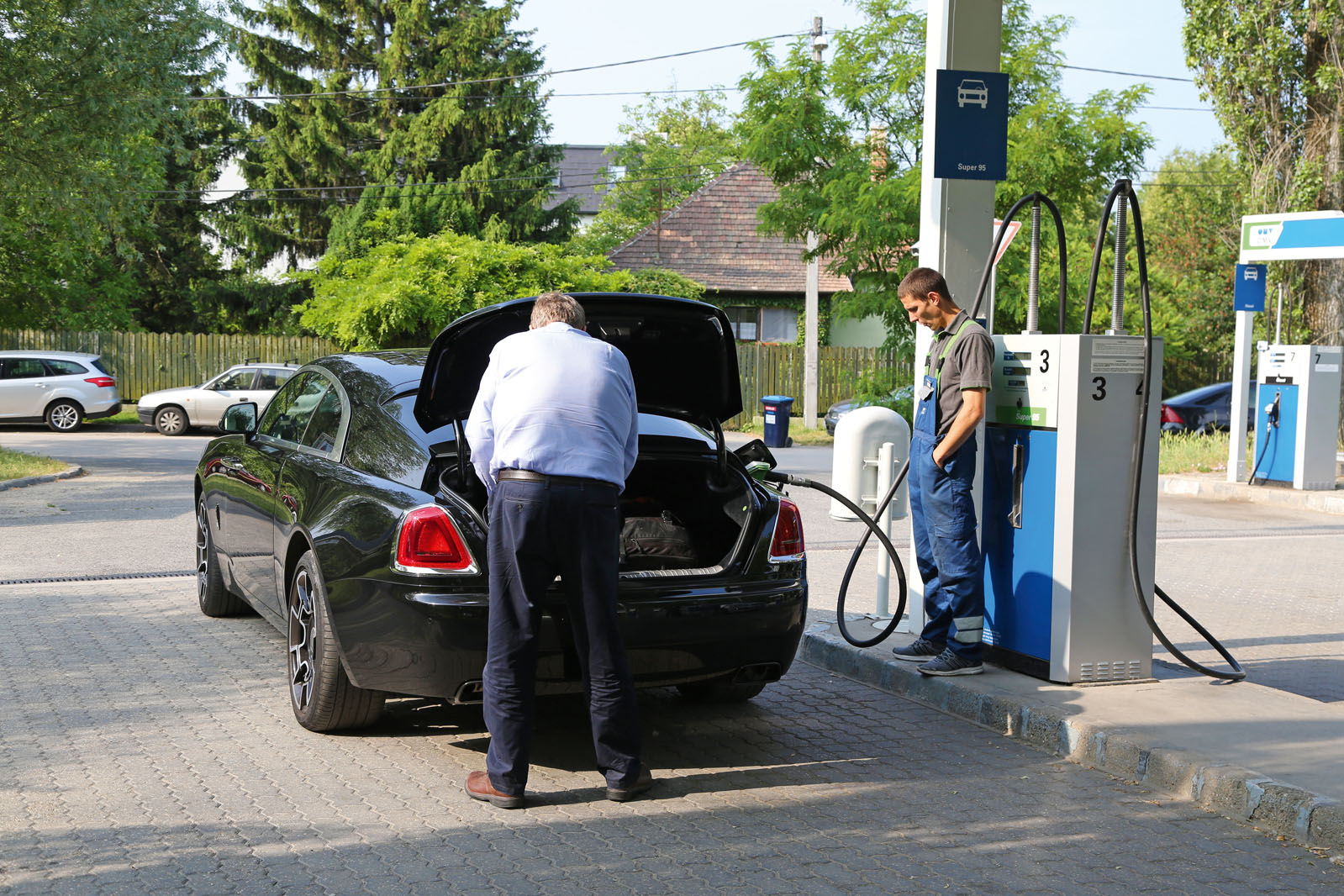 Austria lives up to its scenic reputation as we wind through frequently beautiful topography past Linz, until suddenly we're on the outskirts of Vienna. …read more
Source:: Autocar