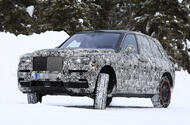 This is our best look yet at the Rolls-Royce Cullinan
The all-wheel-drive Bentley Bentayga rival, due to arrive this year, will be first Rolls-Royce SUV
The reveal process of the Rolls-Royce Cullinan has begun, as the manufacturer has revealed the car's pop-out, tailgate-mounted seats and table.
It's the latest in a slew of recent developments surrounding the Cullinan – the brand recently confirmed the car's name earlier this month, while recent spy shots showed the car with as little disguise as we've seen, revealing much of the Phantom-like look of the car.
Each of the seats, which are rear-facing and intended for use while the car is not in motion, bears the Rolls-Royce double R logo, and they both fold back into a compartment on the boot floor.
The Phantom's influence is clear to see, with a near-identical fascia at the front, and D-shaped taillights at the rear.
The Bentley Bentayga rival was labeled 'Project Cullinan' during its development, although the company maintained it had not decided upon a final model name.
The name is inspired by the Cullinan Diamond, a 3106-carat jewel extracted from a South African mine in 1905. It was split into nine stones, with the two largest portions used in the British Imperial Crown and the Sovereign's Sceptre with Cross.
Rolls-Royce boss Torsten Muller-Otvos said the Cullinan name had been "hiding in plain sight", and added: "It is the most fitting name for our extraordinary new product."
The Cullinan, which Rolls-Royce refers to as a 'high-sided vehicle' rather than an SUV, is likely to use a developed version of the Phantom's 6.8-litre V12 engine. A plug-in hybrid powertrain could also be offered at a later stage, using technology from parent company the BMW Group. Rolls-Royce has dismissed the idea of a diesel option due to the comparative lack of refinement offered by such units.
The all-wheel-drive machine will also use the same aluminium spaceframe platform, named the 'Architecture of Luxury', as the Phantom.
The Cullinan has conducted an extensive testing and development programme, and was last year spotted at the Nürburgring.
Rolls-Royce Phantom – bidding farewell to a luxury legend
The machine's boxy design takes after Rolls-Royce's flagship Phantom, as opposed to the smoother-looking Ghost. Spy shots also show that the rear doors of the Cullinan are rear-hinged, as seen on the Ghost and Phantom.
Read more
Rolls-Royce Phantom – bidding farewell to a luxury legend
Source:: Autocar