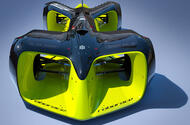 Roborace's Devbot development car has been shown in action on a flying lap; the Robocar will compete in the world's first race series for autonomous vehicles
Roborace has released a video of its development car, Devbot, completing a lap of the Berlin ePrix circuit without the assistance of a driver.
The fully autonomous race series, which works in collaboration with the Formula E all-electric race series, showed the car completing its lap with an empty cockpit. The series' prototype, Robocar, doesn't have a cabin for a driver to sit, but Devbot's development car status means there is often need for a driver's input, as the car is used by all teams for development of features to be applied to Robocar.
Just as Formula E is used to accelerate the development of electric vehicles, the CEO of Roborace, Denis Sverdlov hopes that the series will serve a similar purpose in accelerating the development of autonomous cars.
Roborace Robocar revealed
The organisers of Roborace, a new motor sport initiative for driverless racing cars, have revealed a first look of how the autonomous racing vehicle might look.
The concept – which uses electric propulsion and is operated via connected technology – is the work of former Bugatti and Volkswagen concept designer Daniel Simon, who has joined Roborace as chief design officer.
Roborace events will take place prior to regular Formula E races, and will use the same circuits. The series will feature 10 teams, each fielding two driverless cars. Although the cars will look identical, the teams will compete "using real-time computing algorithms and AI technologies."
Simon, a 41-year-old German, has worked with race engineers on the concept, which Roborace intends to turn into reality for a series of demonstration events on the Formula E undercard. As well as automotive work, Simon has been involved with movies such as Oblivion and Tron:Legacy, and has also created drones, motorcycles, spaceships and Le Mans cars.
He said: "My goal was to create a vehicle that takes full advantage of the unusual opportunities of having no driver without ever compromising on beauty. Racing engineers and aerodynamicists have worked with me from the beginning to strike that balance.
"The Roborace is as much about competition as it is entertainment. Therefore – and quite unusual in today's racing world – beauty was very high on our agenda and we work hard to merge the best performance with stunning styling. It was important to us that we generate substantial downforce without unnecessary parts cluttering the car to maintain a clean and iconic look.
"This is largely made possible by using the floor as the main aerodynamic device and we are currently developing active body parts that are more organic and seamless than solutions today. I am excited to be part of the daring team of people who are making this happen."
Denis Sverdlov, CEO of Roborace, has described the new series as "gaming, motorsport, technology and entertainment all rolled into one". The series is designed to "provide a competitive platform for the autonomous driving solutions that are now being developed."
The stated mission of the new series is to demonstrate that autonomous driving technology "is already here, and can even work in extreme conditions. Roborace believes there is a lot of independent talent in the world that might contribute to this initiative."
One of the 10 team slots will be taken by a crowd-sourced and community-funded team, and will take applications from software developers and technology experts worldwide.
CEO of Formula E Alejandro Agag said: "Roborace is an open challenge to the most innovative scientific and technology-focused companies in the world. It is very exciting to create a platform for them to showcase what they are capable of, and I believe there is great potential for us to unearth the next big idea through the unique crowd-sourced contest."
: Autocar drives a Formula E racer
Source:: Autocar