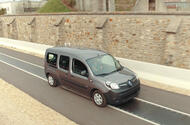 The technology, called dynamic wireless electric vehicle charging (DEVC), was created in collaboration with tech firms Qualcomm Technologies and Vedecom
Renault teamed up with tech firm Qualcomm to create wireless EV charging which can be used at over 62mph
Renault has revealed technology which can charge electric vehicles wirelessly on-the-go, while travelling at speeds of over 62mph.
The technology, called dynamic wireless electric vehicle charging (DEVC), was created in collaboration with tech firms Qualcomm Technologies and Vedecom, and is demonstrated using the brand's Kangoo ZE EV.
A 100-metre test system was created at an electric vehicle on-road charging facility in Versailles to demonstrate the technology, which is capable of charging at a rate of up to 20kW; almost three times the power of Renault's standard charger for the Zoe, but less than half that of its highest-output 43kW quick charger.
Aside from simply charging the car, the system is also planned to offer functions to identify and authorise cars entering the charging track, as well as detecting the alignment and speed of the charging car.
Further testing will be carried out to analyse the system's efficiency, although the system will likely have to be evaluated thoroughly by government authorities before being rolled-out as part of the official infrastructure.
"Contributing to this exciting project has enabled us to test and further research dynamic charging on our Kangoo Z.E. vehicles," said Eric Feunteun, Electric Vehicle Program Director, Groupe Renault. "Our research engineers have worked very closely with the Qualcomm Technologies and Vedecom teams to complete the DEVC system integration demonstration as part of FABRIC. We see dynamic charging as a great vision to further enhance the ease of use of EVs, and the accessibility of EVs for all."
Dynamic EV charger that works at 60mph could end range anxiety
Source:: Autocar