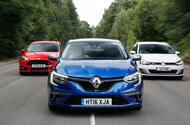 The Renault Sport-tuned GT tops the new Mégane line-up and sets the stage for the full-fat RS version in 2018. But can it uphold Renault's hot hatch honours?
The Renault Mégane is a car apparently trapped in a permanent identity crisis.
While rivals appear capable of regenerating every six or seven years without ever needing a wholesale character reinvention, the Mégane seems to come back drastically altered with a different agenda and fresh selling points every time there's an all-new model.
As its dynasty has developed, we've gone from The Beaky One to The Whacky One to The Oft-FaceliftedBlink-And-There's-A-New-One One. And now …read more
Source:: Autocar