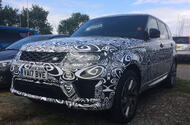 Autocar spotted a Range Rover Sport PHEV over the weekend
Range Rover's forthcoming hybrid SUV will mate a 2.0-litre petrol engine to an electric motor
Land Rover is finalising the technical set-up of a plug-in hybrid (PHEV) version of its Range Rover and Range Rover Sport models, which are due to hit roads in the early part of 2018.
The petrol-electric models will combine power from Jaguar Land Rover's 2.0-litre Ingenium engine with an Electric Drive Module (EDM). The former is predicted to provide 295bhp and 295lb ft, while the latter injects 201bhp and 332lb ft and will also enable about 30 miles of pure electric range.
The EDM was created in-house and and fits into the existing structure of the Range Rover model line-up, mating to an eight-speed ZF automatic gearbox and using power from a lithium-ion battery located beneath the boot floor.
On-road testing for the new drivetrain is well under way. Autocar spotted a Range Rover Sport PHEV over the weekend, which showed no major aesthetic change to the car's exterior, suggesting little more than badges will signify the car's zero-emission capability.
The Range Rover PHEV's closest rival will be the BMW X5 xDrive40e, but the hybrid-electric X5 electric motor produces 113bhp, meaning it is likely to fall short of the Ranger Rover's straight-line and electric-only performance.
How JLR's new hybrid powertrain works
The model will be the first to use JLR's newly developed PHEV drivetrain, but it is expected to be introduced into the Jaguar F-Pace, XF and XJ ranges in the future. It will give each model drastically lower CO2 outputs (according to the New European Driving Cycle), helping these PHEV models to become the least-taxed models in their line-ups.
JLR already produces a diesel-electric hybrid version of the Range Rover, but that system mates a larger 3.0-litre oil burning V6 engine to electric drive. It produces more power than the new petrol-electric system with a peak of 349bhp available, but the new system should undercut the V6 diesel's 164g/km of CO2 emissions.
Source:: Autocar