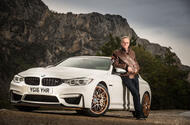 Ari Vatanen gives a BMW M4 GTS the hurry-up on wet roads he knows well in the south of France and tells us about rallying, politics, flying and life
Sitting on a bucket seat with a substantial-looking rollcage behind him, Ari Vatanen looks to be in his natural element.
But this isn't a return to front-line competition. Instead, it's a drive in the most extreme road-going car yet to wear a BMW badge. And after a 30-mile blast across rain-sodden roads near his home in Provence, the M4 GTS has created a strong first impression.
"It's a beast, an absolute beast," …read more
Source:: Autocar