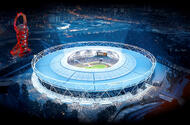 Olympic Stadium to play host to motorsport stars in November
The Race of Champions is set to return to the UK this year, after the organisers announced the end-of-season motorsport event will take place at London's Olympic Stadium.
The event, which pitches stars from racing, rallying and motorcycling in head-to-head races in a variety of machinery, will take place in east London over two days. The 'Nations Cup' will be held on the evening of Friday 20 November, before the Race of Champions itself takes over the venue the following afternoon.
The move to the Olympic Park will come as something of a …read more
Source:: Autocar