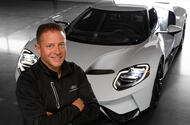 Director of Ford Performance Dave Pericak gives in an insight into taking Ford back to Le Mans
American Dave Pericak has spent much of his life at Ford, working his way up to act as Chief Engineer on the Ford Mustang. In 2014, he became Director of Ford Performance, blending responsibility for racing programmes alongside road cars such as the Focus RS, the Mustang GT and the Ford GT. He tells us about his love of Ford, and taking the brand back to Le Mans.
What was the first Ford you drove?
"It would have been my parents' Ford Taurus, or my brothers' Ford Maverick when they taught me to drive. We were a real Ford family. Loyalty to the 'big three' manufacturers is a generational thing in the US, and my Dad was a true blue-collar worker. So, the Ford brand really resonated with him."
What's your favourite Ford performance car?
"The Mustang Boss 302. It embodies everything about the muscle car era."
What's your favourite on-screen appearance for a Ford?
"Gone In 60 Seconds, with the Ford Mustang 'Eleanor'. I love the original and the remake. I don't watch many movies twice, but I've watched those plenty of times."
Ford Performance brought together experts from SVT, Ford Racing and Team RS into one division. Was that a big challenge?
"It was a real culture shift, with the added complexity of working globally. But we all saw the benefits of working together, focused on the same goal. You need a diversity of skillsets and experiences to challenge each other, and to come up with the best solutions to create amazing cars. However, you also need that common vision. So, merging racing, performance, parts and accessories into Ford Performance was absolutely the right thing."
When designing a Ford Performance car, are big numbers such as speed or horsepower key, or is it about the whole driving experience
"Cars have personalities. You can see whether people put passion and love into it, or treat it as a commodity. If you simply focus on horsepower, the rest of the car won't exude that passion. We have a Ford Performance 'DNA' that we've tried to capture and write down, but some of it is simply down to feel and knowing whether a car is right or wrong behind the wheel. Everything has to work together, and deliver on the car's promise. At Ford, there's nothing we trade off – we have to hit every benchmark, without compromise. That's what separates the legendary cars from the decent ones."
What was it like developing the Ford GT Le Mans car side-by- side with the road car?
"Designing a road car and a race car side-by- side, from a clean sheet of paper, with a time frame of a couple of years to get on the grid at Le Mans – unless you've lived it, I can't describe it. It's tough. But, if you're a car person, there's no better project to be part of. It creates a special bond within your team. Plus, doing the race car and road car together allowed us to engineer them both with no deviations. At Ford, what we race is what we sell. That's important."
What did you learn from the Ford GT that will filter down to the likes of Ford Mustang, or the Focus ST and RS?
"We learned a lot about carbon fibre – new materials, and processes to make it feasible for mass-production road cars. Running an EcoBoost engine for 24 hours meant that we learned a lot about how our engines work, and we've changed some design practices because of that. We also developed tools for assessing and optimising aerodynamics. Perhaps the biggest thing was developing engineers on the Ford GT who will take their knowledge back to mainstream road car programmes."
How do the Ford Performance teams in the US and Europe collaborate?
"The exhaust note of the Ford Focus RS was developed by the in collaboration between our US and European colleagues. The Focus RS's drift mode is another good example of where the US engineers came in and added an idea. The European team scratched their heads a bit, and we had to work together to engineer it, but it has been a huge success."
What is your best memory from your three years at Ford Performance?
"Standing at Le Mans in 2016 – 50 years after the original win in 1966 – with the entire Ford family, and giving them the Le Mans trophy. It's not just one of highlights of my career, it's one of highlights of my life."
Promoted: The people behind Ford's performance – Matthias Tonn
Promoted: The Ford Mustang story
Source:: Autocar