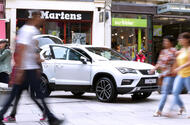 SEAT's first SUV impressed Cardiff and Edinburgh shoppers for its looks, space and features
It can be hard to grab attention in a busy, bustling shopping centre. There are crowds of people, inviting-looking cafes and restaurants, and bright, bold shop fronts designed to make people look.
So when the new SEAT Ateca was put on display in the heart of Cardiff and Edinburgh for an Autocar promotion, could it possibly draw a crowd? The answer: easily.
"I don't normally pay any attention to cars when I see this sort of display, but the Ateca caught my eye because it looks so good," said …read more
Source:: Autocar