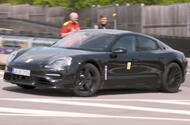 Mark Webber has been driving Porsche's new Taycan
Porsche's all-electric rival to the Tesla Model S is scheduled to go on sale in 2019 and will spawn multiple variants
Porsche Taycan will be the name for the firm's first all-electric car. It had previously been unveiled as the Porsche Mission E in concept form.
The name, confirmed by the firm's CEO Oliver Blume as part of Porsche's 70th anniversary celebrations, is said to translate loosely as «lively, young horse» from a Eurasian dialect- a nod to the firm's crest, which has featured a leaping horse since 1952.
The news follows the release of the the first official drive footage of the Taycan last month, which showed the electric sports car being driven at pace by Mark Webber around the brand's Weissach test track.
In the video, the Formula 1 race winner and 2015 World Endurance Champion demonstrates the all-electric car's agility and traction on the technical layout, stating that it's a «game changer».
Webber also announces that the car has «600hp», which equates to 592bhp, confirming speculation that its lithium ion battery pack-powered dual electric motor architecture will rank the Mission E second only to the 911 GT2 RS for power.
This output should give the car, which Webber admits is «heavier» than a standard Porsche due to its electric powertrain, a 0-62mph time of around three and a half seconds. It is expected to have a range of at least 300 miles.
Although it's not due for reveal until 2019, ahead of arriving in showrooms in 2020, Porsche has already racked up thousands of test miles in mules that appear to be further advanced than regular cars at this stage of their development process.
With new so-called J1 architecture that will enable fast-charging to 80% in just 15 minutes, the Taycan will reach the market with one of the most high-tech powertrains used on an electric car yet. The brand's first EV will feature 800V charging technology that is intended to future-proof the car for several years after it hits the market.
The Taycan's four-seat interior suggests it will be more closely aligned, in terms of character, with the Panamera than pure sports cars such as the 911. But the Taycan's floor-mounted batteries should give it an extremely low centre of gravity to allow for hunkered-down handling that's comparable with more focused performance machines.
The central location of the batteries and twin-motor set-up will also give the car's technical architecture a better front-rear weight balance than combustion-engined cars, potentially allowing Porsche's engineers to soften the car's anti-roll bars to aid ride without hindering handling.
The most recently photographed test car was being towed by a Cayenne. Bbreakdowns are common during early phases of testing. Some of the spotted cars have been wearing exhaust exit surrounds that were fake and fitted to conceal the car's identity. A panel of autonomous sensors has also been seen in the car's nose, nestled between what appear to be two sets of louvres in the lower grille. These can be opened to allow battery and brake cooling.
The development for the car is headed by Stefan Weckbach, who previously led product strategy and more recently was responsible for the development of the Boxster.
The future Tesla Model S rival's J1 structure is one of three new electric car platforms being developed within Porsche's parent company, the Volkswagen Group. The J1 structure is described as being different in construction to the C-BEV platform planned to underpin sister brand Audi's forthcoming E-tron SUV, which is due for reveal later this year.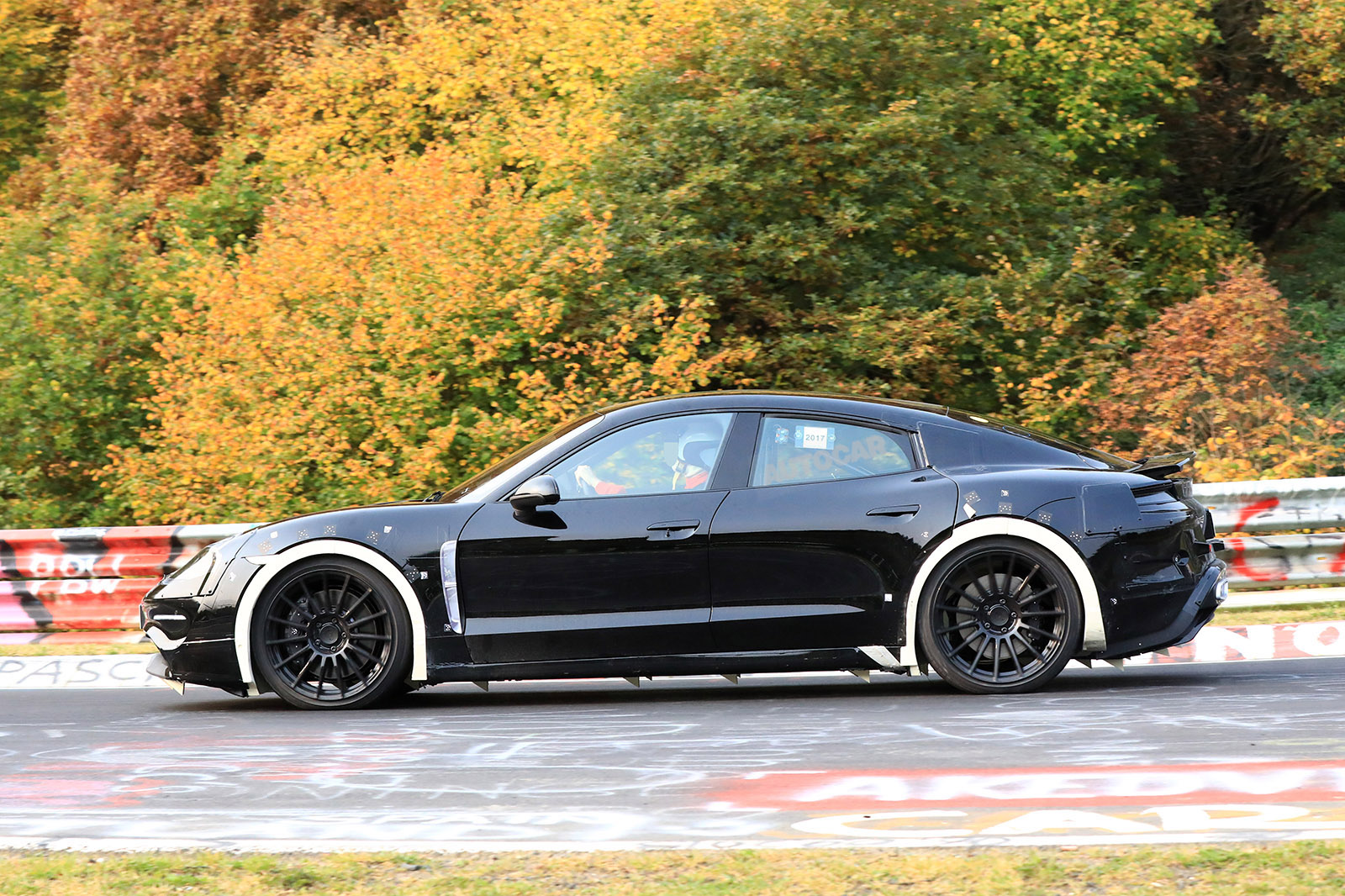 ​"The J1 has a low floor, while the C-BEV is constructed differently with a higher floor that suits an SUV," said company chairman Oliver Blume.
Despite the differences in construction, Blume also confirmed that production versions of the Taycan and E-tron will feature similar lithium ion battery technology.
​Details remain scarce, but Porsche is rumoured to be working with Japanese electronics company Hitachi on the system, which Blume describes as the key to providing the 15 minutes fast-charge capability.
​Blume also confirmed that Porsche plans for the Taycan to have Level 4 autonomous driving technology (self-driving in nearly all situations, with driver attention not required), but denied that it would allow fully autonomous driving over longer distances. "There are situations in traffic jams where you will be able to read a newspaper, but our customers take pleasure from driving and this will remain," he said.
Additionally, Porsche is working on providing the Taycan with software that will allow over-the-air updates such as those pioneered by Tesla with the Model S. "It will be possible to work with over-the-air options," said Blume. "It isn't decided yet, but it could be possible to charge up with more power. For example, when you have 400bhp, it could be possible to upgrade to 450bhp.»
His comments suggest that Porsche is planning the Taycan as a line-up of models with differing performance levels similar to the strategy undertaken with its current 718 Boxster/Cayman, 911, Panamera, Macan and Cayenne ranges. The brand is using the Taycan to spearhead its growing investment, which has totalled £5.3 billion for EV technology. Part of this money has helped to develop a plug-in hybrid version of the next-generation 911.
Porsche revealed a more rugged version of the Taycan at the Geneva motor show. The Mission E Cross Turismo concept is based on the same platform but raises the ride height and adds an estate body. This version is expected to arrive on roads in 2021.
More content:
Top 10 best-selling cars in Britain
2021 Jaguar J-Pace moves closer to production with global trademark
Source:: Autocar