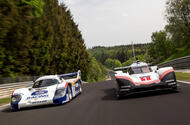 The Porsche 919 Evo (right) is understood to be preparing for a Nordschleife lap record bid. The current record holder is the Porsche 956C (left)
Firm poised to challenge Stefan Bellof's 35-year-old record – and could be aiming for a 5min 11secs lap
Porsche has hinted that it is mounting a challenge on the outright Nürburgring Nordschleife lap record with a heavily modified Porsche 919 Evo Le Mans racer – with unconfirmed rumours suggesting it is targetting a lap time in the low five-minute bracket.
The 919 Evo is based on Porsche's successful Le Mans 24 Hours racer, which won the 24-hour event last year before the firm withdrew from endurance racing.
Freed of the need to meet the class regulations, Porsche has dramatically reworked the 919 for a 'Tribute Tour', radically reworking the machine's aerodynamics to produce 53% more downforce, while reducing its weight by 39kg to 849kg. Porsche has also reworked the hybrid powertrain so the two-litre V4 engine produces 710bhp, with an extra 433bhp coming from an electric motor.
The fastest ever Nürburgring Nordschleife lap times
As part of the Tribute Tour, Neel Jani used the 919 Hybrid to lap the Spa-Francorchamps circuit in Belgium in a record 1min 41.770secs, eclipsing the record of 1min 42.553secs set by Lewis Hamilton in his Mercedes during qualifying for the 2017 Belgian Grand Prix.
The machine also ran at the Nordschleife for a photoshoot with the Porsche 956C ahead of the Nürburgring 24 Hours recently. But the car has now been spotted there, lapping at speed with Timo Bernhard driving – with the circuit exclusively hired out by Porsche.
How to break a Nürburgring lap record
While no official information about the test has been released, Porsche has hinted that it will return to the 12.93-mile circuit soon, suggesting the test may have been practice for a full record bid. In a tweet showing photos of 919 Evo at the circuit, Porsche said: «Well, Timo Bernhard loves that track… Perhaps he comes again.»
Other unverified sources close to the team suggest it believes a lap time close to 5mins 11secs could be achieved – an average of more than 100mph on the undulating 154-turn track.
The existing lap record is 6min 11.13secs, set by Stefan Bellof during qualifying for the Nürburgring 1000km in 1983. That was using a 956 powered by a 2.65-litre flat six engine producing more than 620 horsepower.
British fans will have two chances to see the 919 Evo in action: it will run at the Goodwood Festival of Speed on July 12-15, and the Festival of Porsche at Brands Hatch on September 2.
Read more
The fastest ever Nürburgring Nordschleife lap times
Source:: Autocar