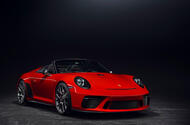 1948 911 Speedsters will be produced; it'll serve as the swansong for the 991-generation 911
Porsche has confirmed that the 911 Speedster concept will enter production as a limited-run swansong to the current, 991-generation 911.
The brand will produce 1948 examples of the Speedster, which was previewed by a previous concept as well as a more recent red example shown at the Paris motor show (pictured).
A heritage design pack adds retro-inspired flourishes to the car, and Porsche hinted that the packs would be available on other models.
New 21in cross-spoke wheels feature, and are likely to be carried over to the production version, as is the car's 4.0-litre flat six engine, borrowed from the GT3, and manual gearbox.
The first of the two design studies was put on display at Goodwood as part of Porsche's 70th anniversary celebrations, while prototypes have been seen undergoing testing in Germany.
Power output is believed to be more than 500bhp, but it's not clear yet whether Porsche will upgrade the existing GT3 engine or use the more powerful unit from the GT3 RS. Either way, it's expected to retain the same 9000rpm rev limit.
The Speedster, which would be a swansong for the current, 991-generation 911, is the combined work of Porsche's GT division and its Exclusive one, mixing its finest engineering department with the one responsible for bespoke designs.
The 911 Speedster will have a lightweight tonneau cover rather than a convertible top, while other weight reduction measures include the removal of the sat-nav, audio and air-con systems. The bucket seats are made of carbonfibre.
The concept's body is based on that of the 911 Carrera 4 Cabriolet but with the wings, bonnet and engine cover made from lightweight carbonfibre composite.
A rear cover, also made of carbonfibre, connects behind the front seats, covering the rollover structure and featuring a 'double bubble' – an iconic design element of 911 Speedster models since 1988.
The concept features details that celebrate Porsche's early racing days, such as the 1950s-style central fuel tank cap positioned in the middle of the bonnet.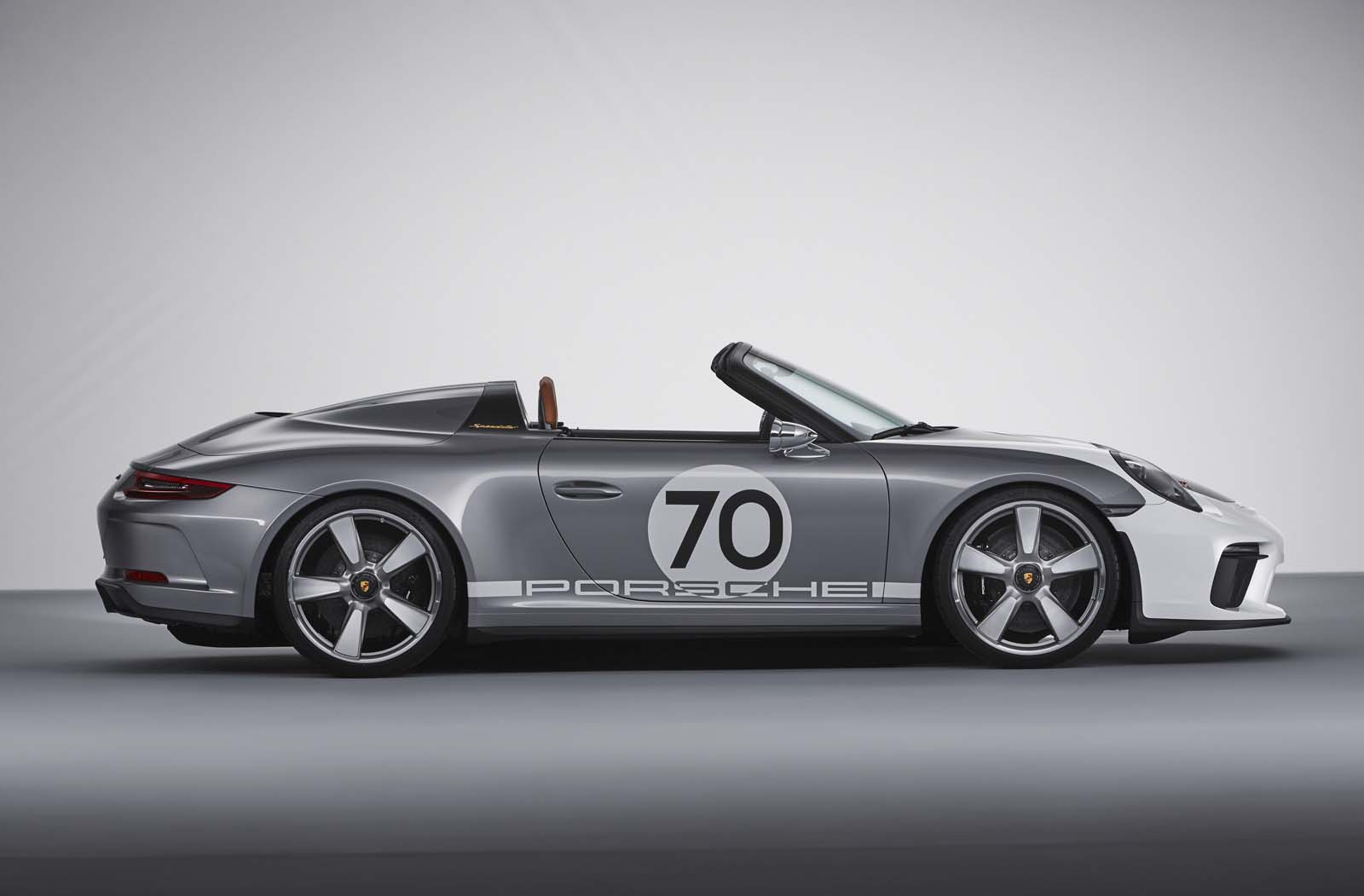 The shape of the Speedster takes influence from the original 356 1500 Speedster that has inspired 911 Speedsters for the 930, 964 and 997 generations.
The previous Speedster cost about £50,000 more than the GT3 of the time, suggesting the new model could sell for more than £155,000.
Read more
Next Porsche 911 Speedster to get hardcore GT3 running gear
Source:: Autocar