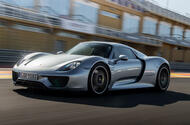 Incorrect screws could impair the seatbelts in an accident; no word yet on whether UK cars are affected
Every Porsche 918 Spyder hypercar has been recalled in the US because of a suspected problem with the seatbelts.
Incorrect fixing screws for the seatbelt mounts and belt reels could have been used, so Porsche has issued the recall as a precautionary measure.
Although it is only a minor component, Porsche says the seatbelt system could be impaired in the event of an accident and it will verify that the correct type of screw has been used on its models.
The issue has arisen …read more
Source:: Autocar