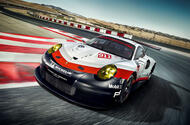 Porsche's 911 has turned mid-engined, but for one model only: the 911 RSR endurance racer. We've gone to find out why and what else has changed for 2017
The Porsche 911 RSR shows that the German car maker isn't afraid to to flout tradition and push to extremes in motorsport – by moving the engine of its 911 RSR from its rear-mounted position.
Yes, you read that correctly: this is the first 911 to carry its engine in front of the rear axle since the 911 GT1 race and road car of the mid-1990s.
The change has been made …read more
Source:: Autocar