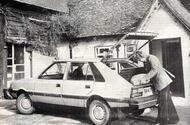 How did the Russian state-funded Polonez fare against rivals like the Chrysler Sunbeam, Ford Escort and Morris Marina? All is revealed in this 1979 Autocar road test
If you were to ask a petrolhead which defunct car manufacturer they missed most sorely, their list would probably include the likes of Saab, Rover, Triumph, Lancia, or Fabryka Samochodów Osobowych.
Well, maybe not that last one. Communist Poland's FSO made some well-known family cars back in the 1970s, but it wasn't quality, drive, or looks they were known for.
FSO started producing the Polski Fiat 125P in 1968, which were Fiat 125s with running gear …read more
Source:: Autocar