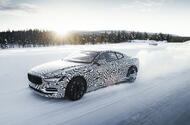 The first Polestar 1 prototype has completed a shakedown test in the Arctic Circle
Company boss says electrified machine is true 'driver's car'; it'll be displayed in motion for the first time in July
The Polestar 1 hybrid coupé is set to make its dynamic debut at the Goodwood Festival of Speed in July, the brand has confirmed.
Following a first reveal as the Volvo Concept Coupé at the 2013 Frankfurt motor show, and its reinvention in Shanghai late last year as the Polestar 1, the car will be displayed in motion for the first time at Goodwood.
The newly spun-off performance hybrid and EV brand's first model will cost from €155,000 (about £135,500 at current rates) in Europe when it goes on sale in the middle of 2019, although customers will purchase the car through a monthly subscription.
Polestar said it had revealed the total price to illustrate where the car sits in the marketplace. The figure makes it around £8000 more expensive than the Tesla Model S P100D.
The 1 is on display at the Beijing motor show in the week following confirmation that a prototype has completed its maiden dynamic shakedown test in the Arctic Circle.
The 592bhp machine from Volvo's newly hived-off performance arm completed around two weeks of testing, with a focus on its drivetrain, batteries and torque vectoring system. Polestar conducted the tests in the Arctic Circle to place the hybrid system under pressure in temperatures that reached -28deg C.
Polestar boss Thomas Ingenlath said the torque vectoring system enhanced the 1's cornering responsiveness and accuracy, adding: «This is a driver's car.»
The 1 is already available to order, for a deposit of €2500 (currently £2185). It will initially be sold in 18 countries, including the UK. Most of the markets fall in north, west and southern Europe, but China, the US and Canada are also included.
Polestar chose to increase the availability of the model at launch from 12 countries to 18 due to high popularity.
The car made its European debut at the Geneva motor show in February and is going on a brand-building world tour before its public launch. Once production begins, 500 examples of the 1 are due to be sold each year.
Before the opening of order books, Polestar said more than 6000 potential customers had expressed an interest in the car.
The 1 has an all-carbonfibre body based on a shortened version of the Volvo S90's platform. It will produce 592bhp from a front-mounted 2.0-litre turbo engine, plus twin electric motors on the rear axle, and is very much a halo car.
It will make more European appearances — possibly including a public driving debut at Goodwood — before heading to the US and then China, where a special manufacturing facility capable of handling carbonfibre structures is already under construction near Volvo's existing plant at Chengdu.
According to Ingenlath, who also remains Volvo's design director, Polestar will become Volvo's "technological spearhead" that, after the 1 hits the market, will make only electric performance cars. The company is preparing for an early 2020 launch of the 2 hatchback saloon, which bears a very close relationship to Ingenlath's Concept 40.2 that has already been seen at motor shows. An SUV, the 3, will arrive after that.
The 2 (imagined by Autocar below), which will be all-steel and use Volvo's smaller CMA platform, will go into production in late 2019 ahead of a 2020 market launch. It will be offered with both left and right-hand drive. Ingenlath won't say where the car will be built but is keen to point out its suitability as a rival to the Tesla Model 3.
Polestar is understood to still be deciding on details of its powertrain design, although two electric motors (one front, one rear) are suggested. The 2 should cost "from €40,000" and have a practical driving range of about 200 miles.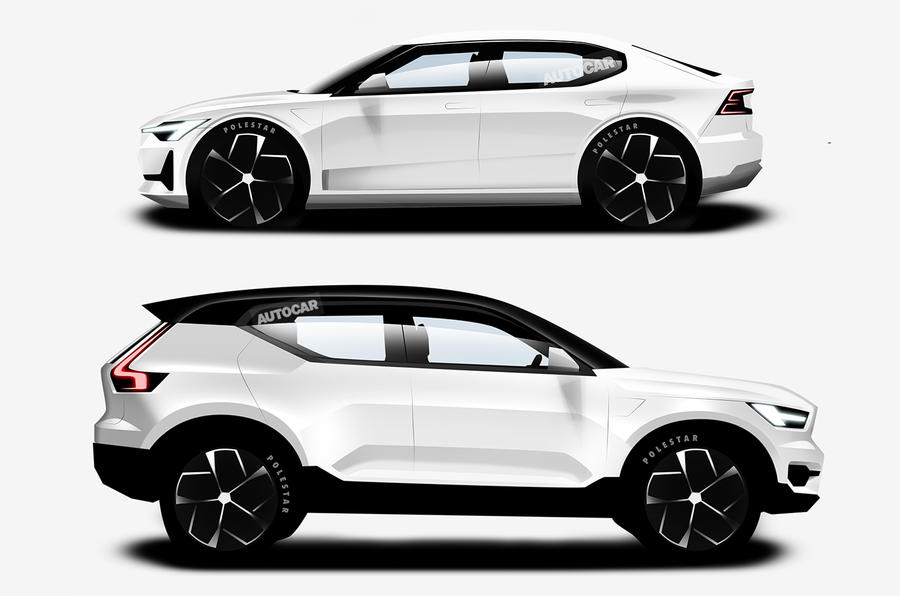 The 3 (imagined by Autocar above), a radically styled, low-roof SUV that will use the next generation of Volvo's SPA big-car platform and have a mixed aluminium and steel body construction, is understood to be heading for a 2022 launch and is likely to be made at Polestar's Chengdu factory. When all three models are selling as anticipated, Polestar volume could reach 80,000-90,000 cars annually (with the 1 accounting for 500 and the 2 for around 50,000). Ingenlath says further models are being considered in areas that wouldn't be mainstream enough to suit Volvo.
As well as developing its rule-breaking new models, Polestar is working on a bespoke marketing set-up aimed at increasing convenience for owners and moving beyond the traditionally adversarial customer-dealer relationship. Cars will be paid for by a monthly subscription that includes insurance, servicing and possibly customer hire days (in case they need a van or fancy a sports car for a few days, for instance). Cars will be picked up from customers' homes or workplaces and delivered back after servicing.
Polestar commercial director Jon Goodman expects to choose about 80 Polestar 'spaces' around the world to sell its cars, with an expected eight in the UK.
Read more
Polestar to take on Tesla with Model 3 rival and SUV by 2019
Will Polestar's subscription system work?
Source:: Autocar