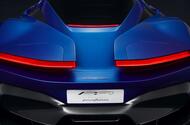 Automobili Pininfarina's first solo production car is previewed in new image ahead of full debut at Geneva 2019
After presenting a design model to buyers at the Pebble Beach Concours d'Elegance, Automobili Pininfarina has released an image of its upcoming PF0 hypercar.
The shot shows the rear-end design of the Rimac-based model, set to be revealed fully at the 2019 Geneva Motor Show and delivered to customers in 2020.
Rumoured to be based on Rimac's latest EV platform, the fledgling car maker claims that the PF0 will be capable of getting from standstill to 62mph in «less than two seconds» and go on to crack the 300kph (186mph) barrier. Despite this, the car is said to have «a potential zero-emissions range of up to 500km (310 miles)».
A new sketch has also been unveiled, previewing the car's design from the rear, while a video (below) shows company chairman Paolo Pininfarina describing the car's long-awaited launch as part of «an American dream».
The PF0 is the first production car solely branded as Pininfarina from the renowned Italian design house. A maximum of 150 examples will be produced and sold globally after it launches in 2020. It'll act as a halo product, being the first of several all-electric models in Automobili Pininfarina's product plan.
The confirmation of a Pebble Beach debut was released alongside sketches of the PF0's interior, showing a minimalist and driver-focused layout for the two-seater. Further details have yet to be revealed, but the production car will be priced to compete with the hypercar elite, including the Bugatti Chiron.
Anand Mahindra, group chairman of Mahindra, which owns Pininfarina, previously said that the hypercar will draw "upon the pedigree and design vocabulary of the Pininfarina aesthetic heritage» to «develop a rare collector's item that only a handful of connoisseurs will ever own».
He said that the PF0 will «be an innovative and pioneering product powered by high technology» and combine «power, beauty and high-end EV technology».
Details are still thin on the ground, but an Autocar scoop earlier this year revealed that it will use modular underpinnings co-developed by Croatian electric supercar maker Rimac and the Mahindra Racing Formula E team. Autocar understands that the PF0 will have an output to rival the 1479bhp offered by the Chiron.
Rimac's recently revealed C_Two produces 1887bhp from four electric motors, illustrating the level of performance potential for the top Pininfarina model.
Referred to as Project Montana previously, Automobili Pininfarina will follow its top model (which could take influence from the H2 Speed, pictured below) with three SUVs that are all set to arrive within five years. The biggest, codenamed PF-One, will be a high-performance answer to the Lamborghini Urus. The other two will be rivals to the Porsche Cayenne and Porsche Macan respectively. All will use their own version of the same modular underpinnings.
The fastest SUV will offer around 940bhp from a battery pack of about 140kWh, enabling a 0-62mph time of less than three seconds. Its smaller SUV siblings are likely to use lower-output versions of the same powertrain but their performance will still be at the sharp end of their segments.
A source said that the Pininfarina car brand will be given an initial investment of $100 million (about £71.6m) from Mahindra to fund the creation of its model range.
Automobili Pininfarina's CEO, Michael Perschke, has more than 25 years of industry experience. He is joined at the helm by chief operating officer Per Svantesson, who has previously worked at Volvo.
"Establishing Automobili Pininfarina as a leading sustainable luxury brand is our strategic vision and will be a dream come true,» said Perschke. «It will combine 88 years of iconic design heritage with leading-edge electric vehicle competence of the Mahindra group and Mahindra Formula E racing. It's a powerful combination.»
Mahindra intends to invest a total of about £358m into Automobili Pininfarina over five years. The new brand will work independently of its parent's EV division, Mahindra Electric, with operations based in Europe.
Pininfarina's new car brand comes after Paolo Pininfarina said at the Geneva motor show that he hoped the dream of his grandfather, company founder Battista Farina, to build cars would "come true in the not-distant future".
An insider told Autocar: "Pininfarina has always made very special cars, but usually for other people. When we have sold cars ourselves, like the Pininfarina Sergio [of which six were built in 2015 and sold for a reputed $3m each], we have always done very well. It is not difficult to see what the next step should be. The cars will be exclusive and very beautiful."
Read more
New Pininfarina SUV and saloon designs to become first Vietnamese cars
Pininfarina HK GT: 792bhp coupe concept launched
Pininfarina H2 Speed concept to enter production as track-only hypercar
Source:: Autocar