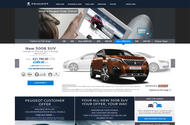 Order Online lets you conduct the entire process of buying a new Peugeot model through the company's website
Peugeot is the latest brand to allow buyers to buy their car online, following in the footsteps of car makers including Hyundai, Jaguar Land Rover and Smart.
Instead of browsing online and then visiting a showroom to complete the transaction, Peugeot buyers can now do the entire process online, including finance and trading in your part-exchange vehicle.
Peugeot's online system distinguishes itself from some other car makers by offering buyers the option to specify a car as they wish, rather than restricting buyers to purchase dealer stock vehicles only.
"People who want to get their new car as quickly as possible can be less picky about its spec because the site tells you the difference in delivery times for cars with different engines or body styles," explained Andrew Baird, head of digital at Peugeot UK.
"And to take the strain out of part-exchanging your old car, Order Online will give you a guaranteed price for it. It's all about making the whole process quicker and easier," he added.
"We've even added a system that enables the site to verify your identity online so you don't have to upload documents."
Once a customer has placed their order, they will be contacted by a "concierge", who will keep them up to date on the progress of their order until delivery.
Although no special discounts have been applied to cars bought via Order Online, they are eligible for all current special offers and deposit contributions for PCP finance deals.
Other cars you can buy online
Hyundai and Smart also launched online buying portals earlier this month that allow buyers to complete the entire purchase of a new car from the comfort of their home or office.
Hyundai's Click To Buy website is offering certain vehicles with a discount built into the price. For example, the manufacturer's recommended retail price for a Hyundai i10 1.0 SE is £10,000, its price on Click To Buy is fixed at £8995, so buyers will automatically get a £1000 discount.
Initially, the models available on Click To Buy are the i10, i20, i30, Tucson and Santa Fe; others will be added later.
Smart offers a similarly streamlined buying process and, although it isn't offering a discount on the cars, it's providing a £1000-plus manufacturer deposit contribution. That equates to £1152 off a £12,815 Smart Fortwo on a PCP deal. At first, only one specially pre-configured Fortwo and one Forfour are available, both based on Prime trim.
Hyundai and Smart aren't the only car makers to experiment with alternatives to traditional showrooms. Volvo only sold the limited First Edition XC90 to customers ordering online, and Audi opened its Audi City centre in London in 2012.
You can also buy a wide range of new cars at a discount via our sister website What Car?'s new car buying service. Enter the details of the car you're after, and our car buying marketplace lets dealers around the UK offer you their best price for it.
To become one of our trusted dealers, they have to sign up our code of conduct, so you can rest assured you're getting a good service, as well as the car you want at the best price.
Claire Evans
Read more:
Hyundai launches new online buying service for new cars
Smart online buying sales begin
Source:: Autocar