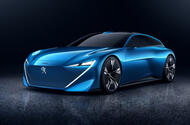 Muscular two-door offers a glimpse of French car maker's future design direction and could signal a switch to electric
An image of the Peugeot Instinct concept has leaked online ahead of its reveal at the Geneva motor show next month.
Posted onto the official show website and shared on the Worldscoop forum before it could be removed, it shows what is likely to be a design study that'll preview the look of the brand's future models.
It wears sharply angled headlights that filter down into diagonal day running lights. The two-door body mixes the shapes of a hatchback and coupé with muscular arches and what looks to be a grille-free nose.
This suggests the concept is powered by an electric drivetrain, another likely nod to Peugeot's future models.
Along with its PSA Group siblings Peugeot plans to launch electric and hybrid production models from 2019. DS will launch the new powertrains first, before handing them over to Peugeot and Citroën.
The Instinct concept suggests these electrified powertrains could quickly make their way into performance models.
Source:: Autocar