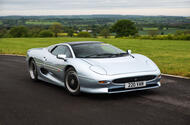 The storied XJ220 supercar was a crowning achievement for Jaguar, but also a millstone around its neck. 25 years on, we decide if it deserves a place among the greats
«Be very, very careful." Don Law is unequivocal in his instructions as he takes me through the controls of the Jaguar XJ220 I'm about to drive. I don't blame him, really. It is, not to put too fine a point on it, piddling down outside.
What's more, the big Jag has 549bhp, rear-wheel drive, and lacks driver aids. There isn't even power steering. It is, in other words, a vastly different proposition to Jaguar's latest skunkworks creation, the XE SV Project 8. And while I'd love to imagine I have the car control of a young Chris Harris, I simply do not. Frankly, I'd be saying exactly the same thing to myself were I in Law's position.
Law has become the country's – nay, the world's – foremost XJ220 guru, ever since Jaguar effectively disowned the project in the mid- 1990s. Law and son Justin were able to pick up the pieces, with Jaguar pointing its customers his way, allowing his business in Staffordshire to become the de facto official XJ220 service centre. On the day of our visit, there are no less than 26 XJ220s in his workshop.
Also present during our test is Jim Randle, the former engineering boss at Jaguar, to whom the XJ220 owes its existence. Over Christmas at home in 1987 – with Jaguar having just dominated the World Sport-Prototype Championship with the V12-powered XJR-8, built by Tom Walkinshaw Racing – Randle's thoughts turned to the possibility of Jaguar building its own road-going racing car.
"What was needed was a height adjustable car that could, with the touch of a button, be lowered to the clearances of one of the Walkinshaw downforce racers of the time," he says. "I spent Christmas doing a bit of 'CAD' – cardboard assisted design – and by the end of the break, I had a quarter scale, mid-engined, venturi-floored model."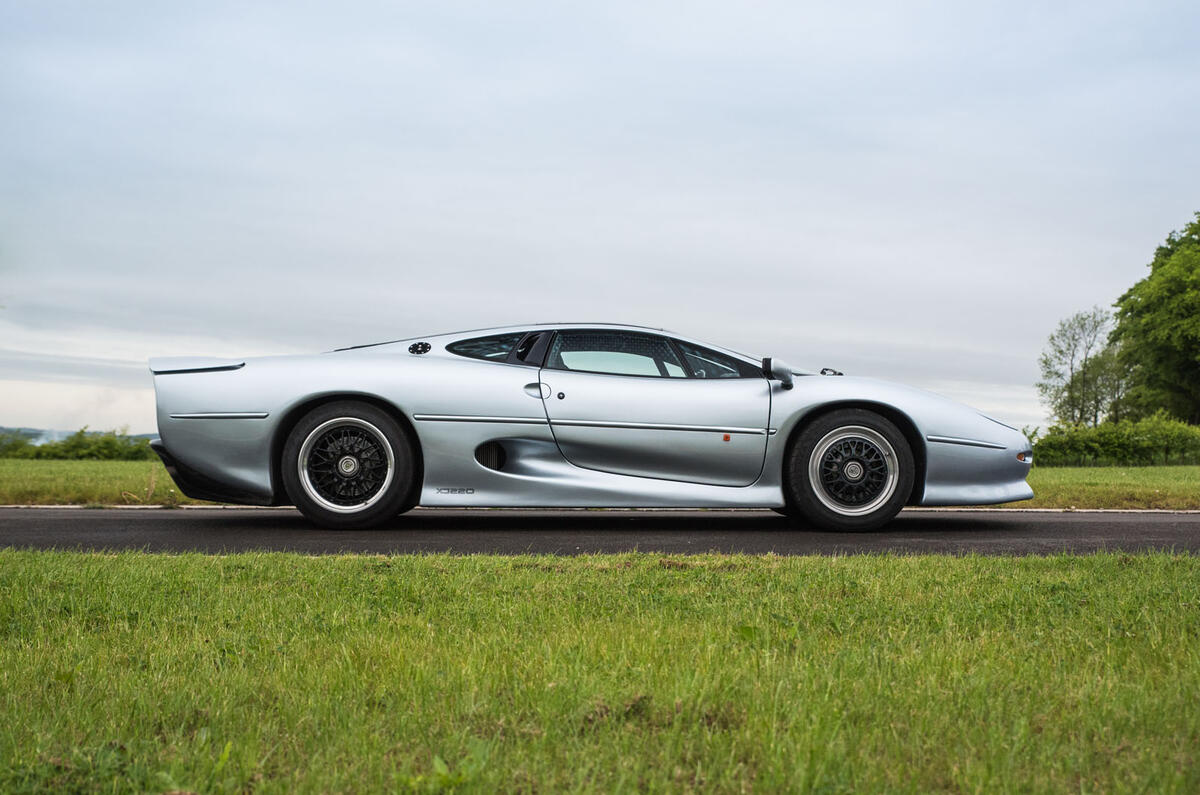 Randle knew that there was no way Jaguar would sanction the £2 million or so required to develop such a car, so he set about doing so for free.
"I called for volunteers to work on it," he says. "They would not be paid and they were not allowed to work on it in company time. I got 12 volunteers. I also cajoled a number of companies – Park Sheet Metal, FFD, QCR, TWR, Triplex, Dunlop, Girling and a few others – to do the same with no reward other than recognition of their contribution and a promise that, were it to go into production, I would do my best to see that they got work from it."
Although most of the work was done before and after the working day, the group became known as 'the Saturday Club', because the initial meetings were held on Saturday mornings. It was thanks to their dedication that the XJ220 show car came into existence. Keith Helfet, the car's designer, was one of the few to stay with the project right the way through, and created a body inspired by the stillborn XJ13 racer.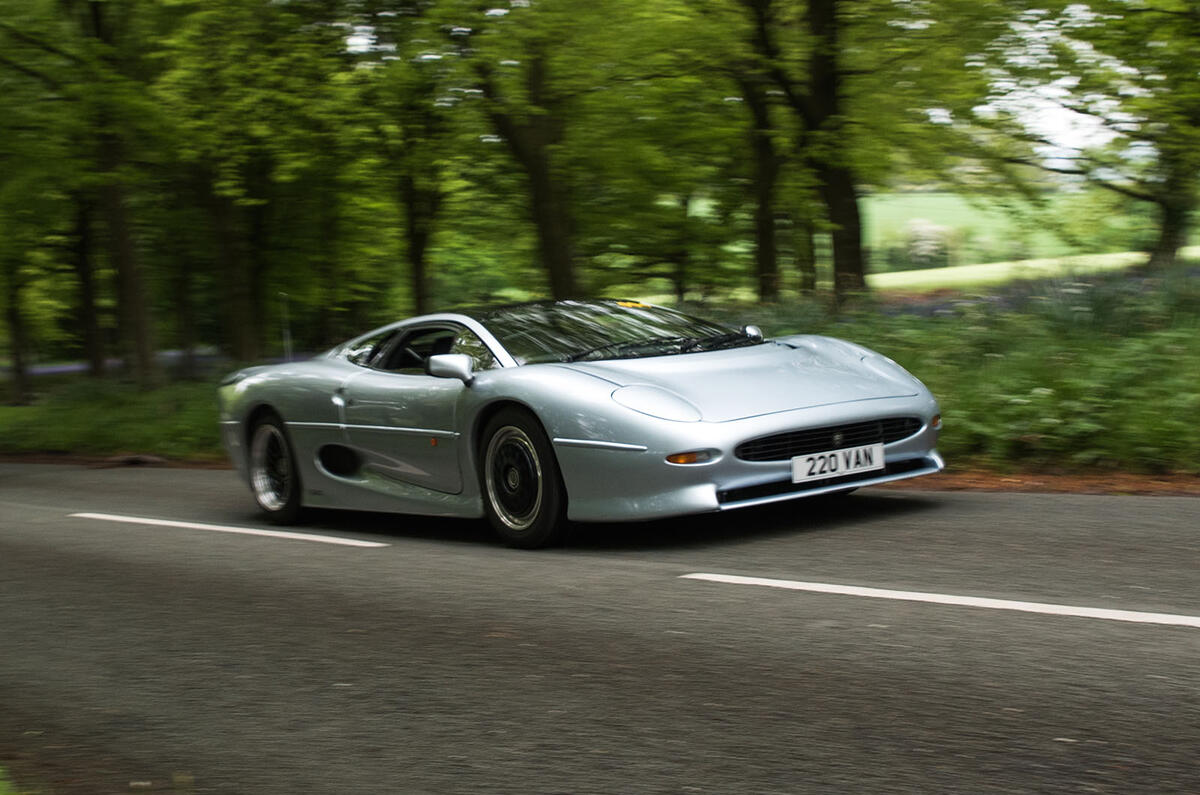 "The only Jaguar board member who had seen the car was Bob Dover, the manufacturing director," says Randle. "I was ready to show it to [company chairman] John Egan two weeks before the [British motor] show. He and Roger Putnam, the sales and marketing director, took only 30 minutes to decide to take it to the show. Once John had signed it off, it was job done."
To say Randle's work was wellreceived would be a masterpiece of understatement. 40 people put down a deposit on the day the car was revealed, and many more did so in the following weeks. But what followed rather took the shine off the XJ220's reputation. After a lengthy development period, it emerged not with the four-wheel drive and V12 power that had been promised, but instead with a twin-turbo V6 and rear-wheel drive.
That this turned it into a better car – as those that know the project insist – made no difference, and nor did the XJ220's breaking of the record for the fastest production car in the world; many customers weren't happy, and demanded the return of their deposits. Legal battles followed, cars languished unsold, and the XJ220 became the supercar Jaguar would rather have forgotten.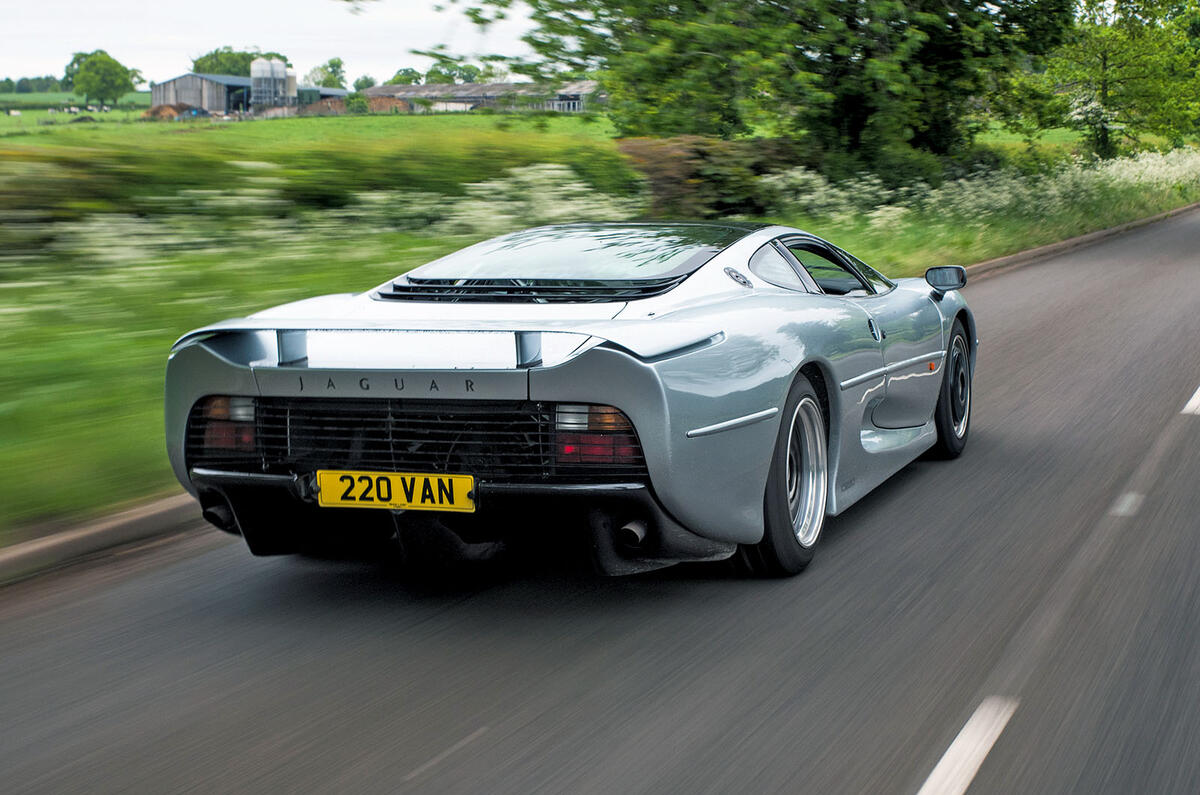 Today, though, the XJ220 has come in from the cold. Helfet's glorious lines look as good today as they did when they were fresh off the drawing board; on the road, the Jaguar is still vast, wide, low and fantastically loud. You have to wonder what those buyers who pulled out missed.
Happily, I'm about to find out. And I'm already sweating just a little. "It's a twin-plate racing clutch," says Law. "It'll do 100 race starts, but it'll overheat if you slip it." Gulp. Best get this right, then.
I manage not to cock it up, but things get no easier once I'm underway. The gearbox has two synchromeshes, so needs slow, deliberate changes. The steering, as you'd expect, is heavy, but you feel every rut, bump and painted line in the road through it, so clear is the feedback. The ride, though, is remarkable; taut, so you feel all the little ripples, but damping of larger bumps is impressive. This is a car you could cover long distances in.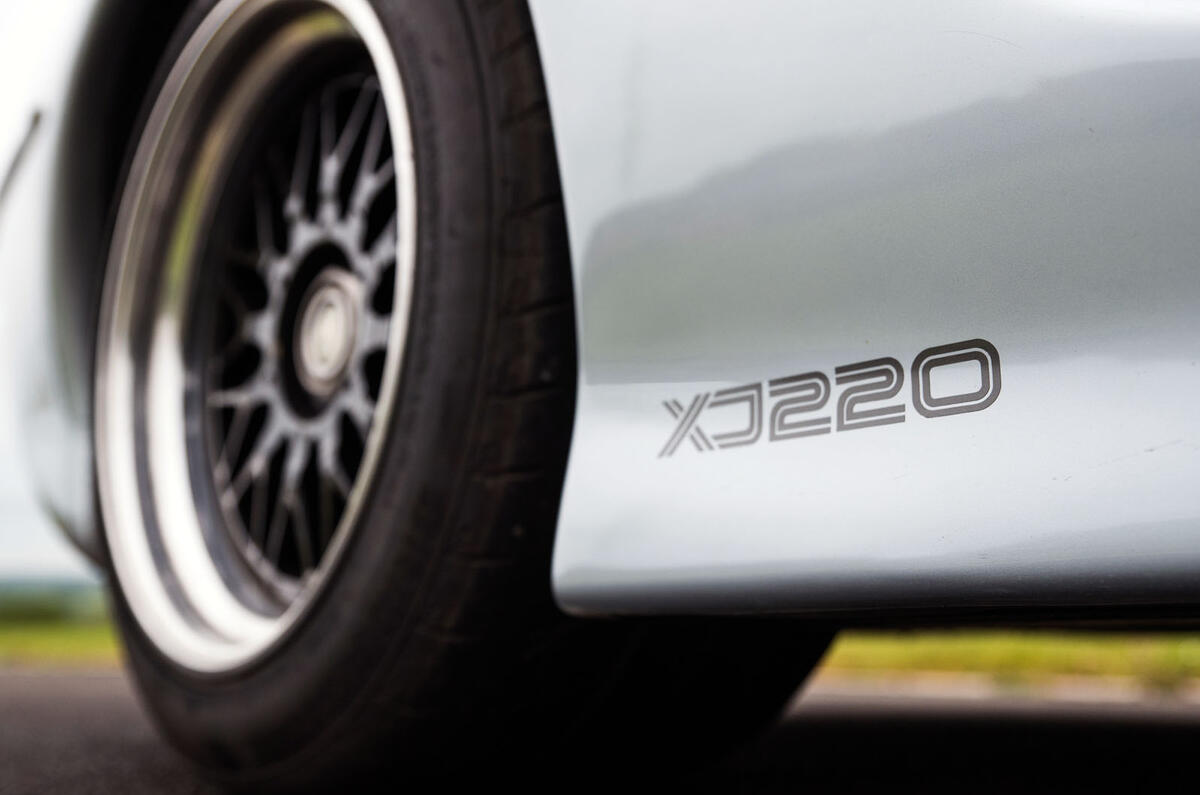 Oh, but it's loud. Gloriously so. And not manufactured loud like so many modern performance cars, with farty pops and bangs thrown in for effect. The noise is raw, savage, hard-edged and devoid of any warmth; a noise that warns you to remember that this is a racing car at its core.
And it shows the first time I put my foot down. I actually swear, loudly, as the turbos kick in. The lag is tremendous, but that means the power, when it comes, is delivered all at once. The effect is explosive. …read more
Source:: Autocar