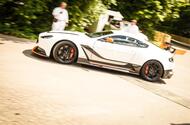 Aston Martin's new head of vehicle dynamics charges up the hill at Goodwood in the Vantage GT12
We haven't even got to the bottom of the hill for our hard charge up it, and Aston Martin's Matt Becker has already stolen three neat slides from this Vantage GT12.
He always makes drifting look easy, but the GT12 certainly seems ready to play, too. As you'd hope given its mix of 592bhp and 1565kg, which yields a power-to-weight of 378bhp-per-tonne.
Besides show-boating for fellow Festival-goers, Becker also talks about his first six months at Aston Martin, which followed more than two decades …read more
Source:: Autocar