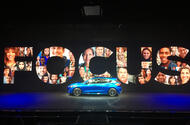 The Ford Focus ST-Line was the sportiest model shown at the launch. A proper ST will follow
The launch of the fourth generation Focus featured a celebration of its performance past – and that heritage is key to its future
Ford showcased four different versions of the new Focus at its launch event in London, revealing the fourth generation of its family car in ST-Line, Titanium, Vignale and Active trim.
Lovely. Now, can we talk about the versions Ford didn't feature? You know, the performance ones?
Right. Well. The official line, as you'll know if you've read our comprehensive launch story, is that while a Focus ST is definitely coming, a Focus RS has been considered, but not yet been signed off by the board. The unofficial line, as Autocar has exclusively revealed, is that a future Focus RS is set to feature a 400bhp mild-hybrid version of the current Focus RS's 2.3-litre turbocharged four-cylinder engine.
But while Ford wasn't showing any performance models at the launch, the company was talking about performance.
New 2018 Ford Focus unveiled as 'brand's most advanced model'
During his speech Jim Farley, Ford's global markets president, said one of his earliest memories of the Focus – from before he joined Ford – was watching Colin McRae and Nicky Grist "wring the neck" of the World Rally Car version in 1999. He added: "It was the ultimate expression of everything that was good about Ford."
Heck, Farley even brought Grist up on stage to share some of his memories of sitting alongside McRae in the Focus (yes, there was some talk of crashes).
Picture special: Colin McRae's career highlights
That emotional connection is exactly why performance models are so important to huge volume, mass market cars such as the Focus. Ford has promised driver engagement is a key priority for the new Focus. So even if the vast majority of buyers never sit in a Focus RS, knowing that there's a high-performance range-topping version brings credibility and character throughout the range.
Autocar scoop: 2020 Ford Focus RS to have 400bhp mild hybrid powertrain
That's why there will definitely be an ST version. Ford of Europe's vice president for production development explained: "We're selling more and more ST-line trim models, and to sell a credible ST-Line, you've got to sell a credible ST.
"We've got some know-how and expertise there, and we like doing them, so we're going to continue doing them. We're committed to our performance line-up."
But if the prospect of a new Focus ST excites, the idea of a new Focus RS enthralls. And it's worth noting that the new C2 platform the fourth-generation Focus is built on can accommodate both four-wheel-drive and the 2.3-litre engine from the outgoing Focus RS.
So surely Ford is just being coy. If performance is so important to the new Focus that there's time to celebrate the car's glorious rallying heritage, then there's going to be a new RS eventually, isn't there? The RS does stand for Rallye Sport, after all.
Since it never hurts to ask, I asked Jim Farley, Ford's global markets president after the presentation. His answer: "Performance is part of the DNA of our company. We have nothing to announce today, but you need to understand our performance business is very important to Ford.
"We now have a global Ford Performance portfolio, which is a healthy business that's growing for us, and we're really committed to continuing with every new product to invest in performance. We don't have any specific news to make, but it's a very important part of our business."
I'll leave you to read between those lines. But my guess is that a new Focus RS will arrive, eventually.
And, while we're waiting, there are far worse ways of passing the time than digging out videos of Colin McRae going flat-out in a Focus WRC…
Read more
New 2018 Ford Focus unveiled as 'brand's most advanced model'
Opinion: why driver appeal matters for the new Ford Focus
Autocar scoop: 2020 Ford Focus RS to have 400bhp mild hybrid powertrain
Source:: Autocar