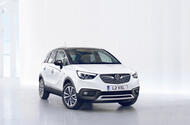 Vauxhall Crossland X
The all-new Vauxhall Crossland X has been revealed, but it's near identical in size to the existing Mokka X – so what's the company's plan?
It's hard to grasp Vauxhall's strategy with the new Crossland X, revealed today.
Both the Crossland X and Mokka X — 63mm different in length — are offered with two-wheel drive, so while Vauxhall says the differentiator is four-wheel drive on the Mokka X, my guess is that potential buyers will be puzzled.
A Vauxhall spokesman told Autocar the Crossland X's rivals are the Peugeot 2008 and Renault Captur, while the Mokka X's are the Nissan Juke and Qashqai.
But the Juke belongs with the 2008 and Captur, and the Qashqai is in a different segment altogether. As far as I can tell, Vauxhall is as confused as me.
2017 Vauxhall Crossland X revealed as new Renault Captur rival
Source:: Autocar