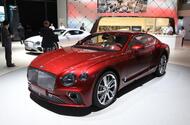 The British firm's new boss will have a tough task living up to his predecessor
Even if it were somehow possible for WO Bentley to make a comeback at the eponymous company he founded 99 years ago next January, it would still be a matter of regret that 59-year-old Wolfgang Durheimer, Bentley's custodian in two stints totalling five years from 2011 to date, is leaving the company.
Durheimer's regime has been unfailingly expansive, which has proved to be the ideal medicine given that he arrived at Crewe in the shadow of the 2008 financial crisis, when industry aficionados were predicting lean times everywhere and especially for luxury car manufacturers. Always immaculately dressed, Bentley's tall CEO has shown an apparently effortless ability to encourage and lead, while setting tough targets he insists are met.
On Durheimer's watch Bentley has successfully returned to racing with Continental GTs in the GT3 class. The move has helped to quell never-ending questions about Bentley repeating its outright Le Mans victory in 2003. The company has refreshed every one of its existing models, and successfully launched (and named) the initially-controversial Bentayga SUV, still Crewe's best-selling model, though marketing men must be hoping the (non-competing) all-new Conti GT will soon match or beat its sales.
Running Bentley has been only one of three concurrent VW Group jobs Durheimer has held down since 2011. He has also had a similar role at Bugatti (where he recently launched the Chiron hypercar) and has also run all VW Group motorsport activities. It is to an expanded version of this third role he is believed to be returning. Durheimer was head of R&D at Porsche for 12 years before his UK assignment and though there has been no discussion of his new role, he is tipped to be taking charge of Stuttgart's return to F1 in time for changes to the engine formula in 2020.
Durheimer's Bentley UK career has had two distinct phases. The first was short: he arrived in 2011, rapidly overhauling model plans and setting lots of new targets, but by the end of 2012 he had departed back to Germany for a new job as head of Audi R&D. Details of what happened next are sketchy, but it is understood his view of Audi's R&D priorities — especially on the electric car investment front — failed to match those of Audi traditionalists, now departed. His career seemed to be on a fatal backward path as he concentrated simply on motorsport. Apparently vindicated, however, Durheimer returned to his three-pronged, high pressure Bentley-Bugatti-VW assignment in 2014.
His replacement at Crewe is understood to be Adrian Hallmark, a well-experienced Brit who has made impressive successes of previous careers at Porsche Great Britain and Jaguar Land Rover. VW has meanwhile appointed a new chief of Bugatti. Both men will have large shoes to fill.
Related stories:
Source:: Autocar