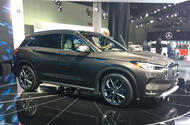 The reveal of the Mazda Vision Coupe concept has spurred on questions relating to modern car design
Are cars no longer elegant? Apparently not, says Ukuo Maeda, head of design for Mazda.
Talking at the preview of the brand's new Vision Coupe luxury grand tourer the night before Tokyo motor show, he said: "Not many cars these days can be described as elegant," before adding that "the state of cars is so complicated", elegance can not be achieved.
But elegance is exactly what Mazda has aimed for with its new Vision Coupe concept, a sporting grand tourer, that, at least conceptually, could rival an Aston Martin in the looks department.
Mazda uses lots of Japanese philosophy to describe its design ethic – most of which sounds like mumbo jumbo – but in short, it is trying to achieving a minimalist aesthetic. "In Japan, in space where there is nothing, we see beauty. The empty space becomes the canvas," says Maeda.
Whether Maeda was having a dig at other car makers with its elegance comment wasn't clear, but there's certainly lots of awkward-looking lines on modern cars – the new Nissan Leaf springs immediately to mind and plenty of Toyota models.
The Vision Coupe isn't due to make production, instead showing the second-generation of Mazda's so-called Kodo design language, but Mazda has absolutely achieved an elegant-looking car, with incredibly smooth lines, an impressive sweep on the body shoulder and an almost never-ending bonnet.
The concept took two years to create and was largely handmade from clay. It went back and forth from clay modeling to digital modeling to achieving the incredibly clean surface that the final version features, claims Maeda.
We're yet to see how this 'elegant' design translates into production models, but based on Mazda's recent efforts, it has carved a place for itself as having the most handsome of Japanese models.
And you know what? It could be a very smart move indeed. In an era when 'there are no bad cars', or 'all cars feel the same' there's one thing that can really help your models stand out: design. When the margins between cars are so small, design could make all the difference when it comes to the buying decision.
And those margins are only set to narrow further. Imagine 10 years from now choosing between one autonomous car and another; you'll probably only be looking at two things; the technology is has, and the way it looks..
Source:: Autocar