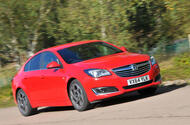 In the latest German diesel scrappage schemes, customers can get money off the list price of a new Opel or Mercedes-Benz if they trade in their old diesel
Opel and Mercedes-Benz have joined the growing number of German car manufacturers in launching trade-in schemes with incentives for owners of older diesel cars.
German news site Tagesspiegel also reported that Opel would be retrofitting Euro 5 and 6 standard cars with software that would reduce emissions.
The brand, formerly owned by General Motors but now part of the PSA Group, offers €7000 for owners trading in their Euro 1 to Euro 4 diesel car. The scheme will not be offered to UK customers, says a Vauxhall spokesman, although the brand does have a £2000 scrappage scheme currently on offer. This has been in existence since November last year.
The incentives start at €1750 for the Karl (Adam in the UK) and the maximum is €7000 for the Insignia. Unlike other German manufacturers' trade-in initiatives, customers' traded-in cars must be scrapped.
Mercedes offers a €2000 incentive for owners of Euro 1 to Euro 4 diesel owners trading in their cars for a hybrid or diesel Mercedes, or €1000 if they choose a pure-electric Smart Electric Drive model.
A caveat of the Mercedes scheme is that the owner of the car being traded in must have been the owner for at least six months, presumably to avoid owners profiting off the scheme by buying old diesels purely to trade them in. Owners will also receive a trade-in value of their car in addition to the changeover bonus, although those who trade in Euro 4 cars will likely receive a higher sum, as it will be based on a trade-in valuation.
The spate of scrappage schemes are a result of a diesel summit held between manufacturers and the German government. BMW has expanded its trade-in scheme to the UK; Volkswagen Group is currently weighing up the proposal to bring its scheme to the UK.
Ford is also understood to be implementing a similar strategy in Germany. The brand's Mondeo 2.0 TDCi is currently under investigation by German authorities looking into allegations of an emissions cheat device.
Read more:
Is it time to say goodbye to diesel?
Hybrids exempt from Britain's petrol and diesel car ban
Will London's pollution problem spell the end of diesel cars?
German states want to ban petrol and diesel cars by 2030
Diesel vehicles to be banned from Paris, Madrid, Athens and Mexico City by 2025
Source:: Autocar