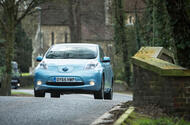 Our Nissan Leaf is fast approaching its first service, but what actually needs servicing in an electric car?
Servicing has always bothered me when it comes to electric cars. I mean, what actually needs servicing?
Glance at the Nissan website and, amid the inevitable oil change and fluid checks, the only relevant work for a Leaf in the first service – due after 12 months or 18,000 miles – seems to be for screenwash. At £99, that's an expensive way to get your screenwash topped up. Still, I called up Ancaster Shepperton Nissan, who were very helpful and explained that they also do a check on the battery condition and tyres, so there's that.
Despite all this, our Leaf isn't due a service for another few months. It has not yet hit 5000 miles and feels as tight to drive now as it did brand new. It was actually a reader who got me thinking about it. Simon Williams got in touch to tell us about his 90,000-mile Mk1 Leaf. I imagine the Nissan felt somewhat frumpy to drive, following on from his BMW 335d, but he's happy anyway, having saved around £7000 per year on fuel and running costs. He also gets his car serviced at an independent garage and it "costs barely anything".
The range on his car has now dropped to around 50 miles from the as-new real-world 70-mile range, so he'll be rethinking quite soon, given his daily commute of 45 miles. Still, that's double the average daily commute, and it goes to show that it can be done with electric power – even without the added range (about 90-100 miles, realistically) of our facelifted 30kWh model. And done happily, at that.
Annoying cables
I'm continuing to enjoy the Leaf's stream of power and distant, eerie whirring noise. What annoys me are the cables. They're hard to squeeze into the cases provided, so I often give up and chuck them loose into the boot, where they look a mess and get tangled up with the buggy. I've resorted to a plastic bag — not as neat, but quicker and easier.
NISSAN LEAF 30KWH TEKNA
Price £27,380 (after £4500 gov't grant) Price as tested £28,380 Economy 3.7 miles/kWh Faults None Expenses None Last seen 19.10.16
Read our previous reports:
110-mile range isn't such a set-back
Source:: Autocar