The first Leaf was an EV pioneer. Can the new one make as big an impact? We're finding out over six months
Why we're running it: To see if Nissan's advanced the cause of EVs at the affordable end of the market
Life with the Nissan Leaf: Month 1
Welcoming the Leaf to our fleet – 18th July 2018
I have a theory about electric cars. As these things go, it hardly ranks up there with Einstein's Theory of General Relativity, but here it is anyway: I reckon EVs are good for your health.
I'm not just talking about the fact that they don't produce any exhaust emissions, thereby contributing to an improvement in the quality of the air we breathe. I'm convinced that driving an EV is also a guaranteed way of reducing stress levels and blood pressure. Even the most humble of EVs are so relaxing to drive that I rarely feel any kind of aggression towards other road users or like I'm in a rush to get anywhere.
For that reason – plus the fact that petrol and diesel prices are creeping up to extortionate levels – I'm exceedingly happy to be back behind the wheel of another electric car (having previously run a Renault Twizy and a BMW i3) for the next six months.
Sadly, it isn't a Jaguar I-Pace, but it's no less interesting or significant. It's a new Nissan Leaf. The car that kicked off the modern era of EVs in 2011 has moved into its second generation as of early this year, and it's a useful step forward compared with its predecessor in every way.
Among other things, it's got more power and performance than before, a bigger battery pack, a longer claimed range and a smarter interior. Its progress prompted us to give it a game-changer award at this year's Autocar Awards.
The claimed 235-mile range under the old NEDC test procedure can be discounted as unachievable, but Nissan is now quoting a real-world range of 168 miles, based on the new WLTP test. That's better than the 124-mile figure that Volkswagen claims for the e-Golf, but only about the same as what you can already get out of a Renault Zoe. Frankly, I'd been hoping for something closer to 200 miles this time around.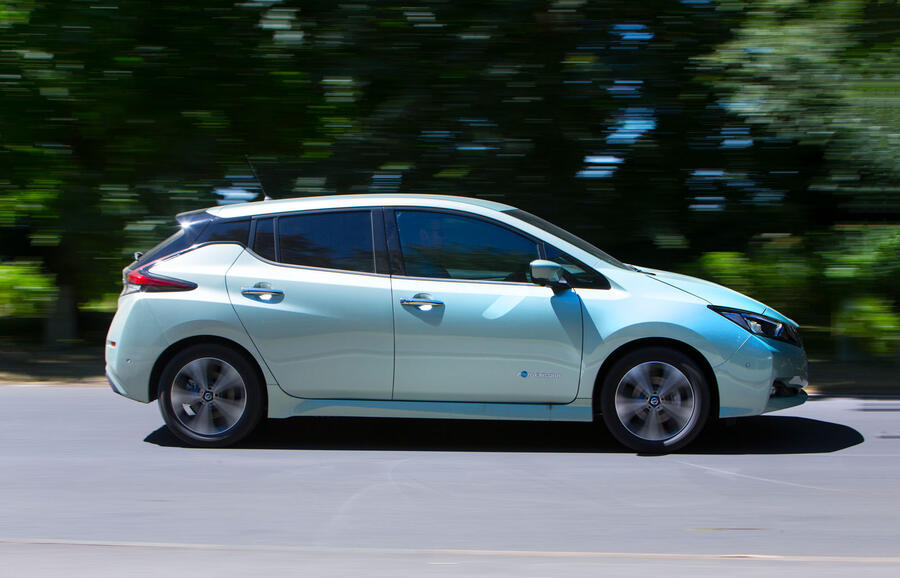 The 40kWh battery pack can be recharged with a three-pin domestic socket (taking a tedious 21 hours), a seven-pin plug (seven and a half hours via a 7kW wall box) or a 50kW public rapid charger (40-60 minutes, to 80% capacity). With a subscription to Chargemaster's Polar network, we'll have access to more than 6500 public charging points in urban areas around the country.
For longer trips, I've also registered the car and a credit card with Ecotricity, which provides all of the rapid chargers at motorway services, so I'll be able to access them and pay for each recharge via a smartphone app. However, previous experience suggests that the majority of the recharging will be done at home or the office, both of which are convenient for me.
Of the three trim levels available, mid-range N-Connecta gives you as much kit as you're likely to need, but we've gone for range-topping Tekna, mainly because it opens the door to the full gamut of Nissan's latest safety technology and driver aids. Standard equipment includes ProPilot (which combines active cruise control with lane-keeping assistance and blindspot monitors), as well as heated front and rear seats with leather and 'ultrasuede' upholstery, a surround-view monitor, a Bose premium audio system and full LED adaptive headlights.
On top of that, we've added ProPilot Park (£1090 with Tekna trim only), which is an almost fully automatic parking aid, and Spring Cloud Green metallic paint (£575).
I was never a fan of the previous Leaf's interior or driving position, but the new one is a definite improvement, with a much more contemporary design and higher-quality materials. On first acquaintance, I still have some reservations about the driving position, mainly because the steering column doesn't adjust for reach and I feel as though I'm perched on top of rather unsupportive seats. However, I'm not expecting this to be too much of an issue once I've settled in properly.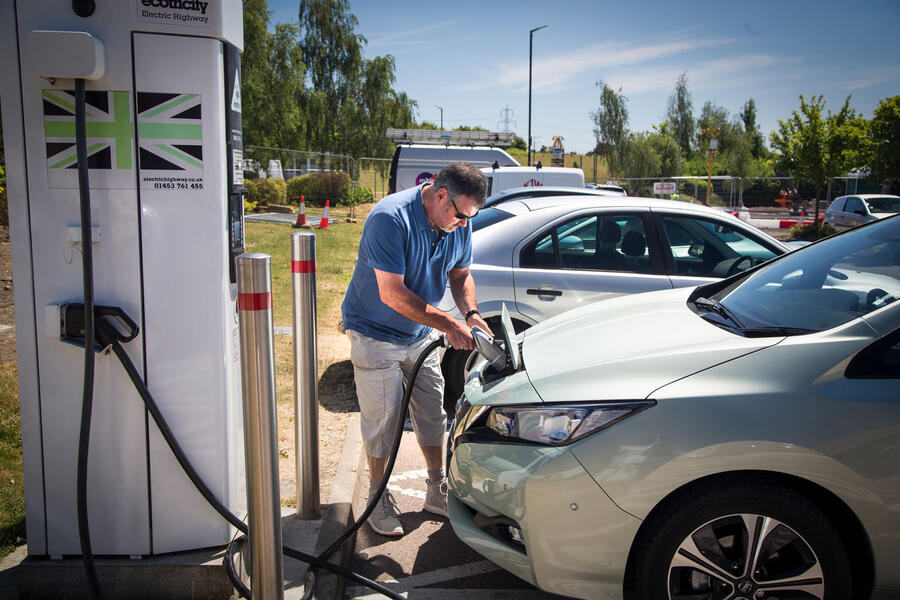 Practicality is a strong point for the Leaf, with plenty of space front and rear and a good-sized boot that's hindered only slightly by the presence of a subwoofer on the floor. There's a cargo net on either side of the boot for retaining the two charging cables – not as good as a separate compartment but hopefully convenient enough to prevent the boot from getting cluttered up with tangled cables.
Another piece of new technology for the Leaf is e-Pedal – a strong regenerative braking function that allows you to drive fairly easily most of the time without touching the brake pedal. I know from previous experience with the i3 that this ability to drive using just one pedal makes for exceptionally smooth progress, especially around town. There's no creep in this mode, though, so it isn't ideal for parking. In which case, you can switch it off, giving the same level of creep as you'd get in a normal automatic.
As you'd expect, the Leaf is wonderfully smooth and quiet when it's rolling along, and its ride is remarkably comfortable, while the 148bhp electric motor provides lively, linear performance. The new car also feels more stable than its predecessor did, so I'm hopeful that it'll be more assured on the motorway.
The big questions for me are 'Has Nissan made a big enough step forward compared with the original Leaf and its contemporaries?' and 'Is the Leaf now usable enough to give it widespread appeal?'. No matter what the answers turn out to be, there are two things I can count on. One: my running costs are about to drop dramatically. And two: my doctor will be happy, as I'll be in …read more
Source:: Autocar