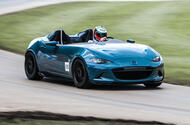 Fifth-gen car will make use of carbonfibre to be more efficient than ever; it's not due before 2021
The Mazda MX-5 should continue to get even lighter in future generations, with downsized three-cylinder engines likely to power them.
The current, fourth-generation MX-5 was smaller and lighter than the car it replaced. While MX-5 programme manager Nobuhiro Yamamoto has said the MX-5 is unlikely to get smaller in the future (a fifth-gen car won't arrive before 2021), it should get lighter due to the increased affordability of lightweight materials such as carbonfibre.
"The size is right," said Yamamoto. "But in the future lightweight …read more
Source:: Autocar