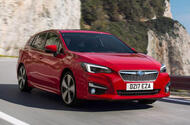 Subaru's latest Ford Focus rival sits on the brand's new global platform and retains all-wheel drive
Subaru has shown its new European-spec Impreza ahead of the car's public debut at the Frankfurt motor show this September.
The latest iteration of the brand's Ford Focus rival retains its predecessor's unique set-up of a flat-four boxer engine and symmetrical all-wheel drive, but underneath it sits on the all-new Subaru Global Platform.
This brings the Impreza's body 5mm closer to the ground than before, with Subaru claiming that this improves handling and agility. Subaru also says the new car will have improved steering responses.
Subaru is yet to announce the exact specifications of the new Impreza's engine, but it's predicted to be a developed version of the old car's 1.6-litre motor at launch. The new model will also likely gain more engine options in a bid to broaden its appeal.
The Impreza's exterior design is now sharper and more in line with the brand's performance models, the BRZ and WRX STI. Although it's yet to be revealed, the European-spec car's interior will almost certainly be the same as that of the US model, which was launched last year. This features a new central infotainment touchscreen.
Subaru will also fit its new model with its Eyesight technology as standard. This driver assistance system includes emergency automatic braking and adaptive cruise control.
More information, including pricing and on sale dates, will be released when the car arrives this autumn. As with its predecessor, it's expected to cost from less than £20,000.
Source:: Autocar