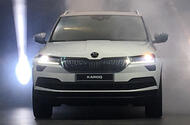 This is the new Skoda Karoq, a compact SUV that replaces the Yeti in the Czech manufacturer's line-up
New SUV is Skoda's Nissan Qashqai rival, and shares tech with Volkswagen Tiguan and Seat Ateca
This is the new Skoda Karoq, a compact SUV that replaces the Yeti in the Czech manufacturer's line-up.
The Karoq, which was unveiled in Stockholm, Sweden this evening is Skoda's challenger in Europe's fastest growing market segment, going up against the likes of the Nissan Qashqai.
While replacing the successful Yeti, and Karoq is an all-new design built on the Volkswagen Group's MQB platform, and shares parts and technology with the similarly sized Volkswagen Tiguan and Seat Ateca.
Review: First drive in Skoda Karoq development car
The Karoq's design – along with the Alaskan indigenous language-based naming convention – is based on the recently launched Kodiaq. There will be a choice of five engines at launch, with four of those new to Skoda.
Skoda CEO Bernhard Maier said: «With the Karoq we are opening a new chapter in the success story of SUV at Skoda. The Yeti sold 100,000 cars per year, which was no less than 10% of global sales. We expect the Karoq to do more than that.»
The Karoq is also available with a range of advanced driver assistance and infotainment options, and is the first Skoda to come with a digital instrument panel.
The decision to drop the popular Yeti name was in part to reinforce links to the Kodiaq, but also designed to help boost the car's global appeal. In China, one of the fastest-growing car markets where SUVs are hugely popular, the yeti association is seen as a negative, given the yeti folklore originates in Bhutan, a country China has no diplomatic relations with.
Board member for sales and marketing Werner Eichhorn said: «We sold 550,000 units in 2006, and 1.1m in 2016. China is our fastest growing market. The compact SUV segment is the growth segment in the industry. Sales in the segment have tripled in the last couple of years and that will continue. The Karoq sets a clear cut trend in its target segment.»
Skoda Karoq offered with five engine options
The Karoq will be offered with two petrol engines: a 1.0-litre TSI three-cylinder with 113bhp and 129lb ft, 1 1.5-litre TSI with 148bhp and 184lb ft. The latter, which features active cylinder technology, can do 0-62mph in 8.4sec.
The three diesel engines include a 2.0 TDI with 148bhp that has already featured in Skoda's range. The other two are new: a 1.6 TDI with 113bhp and 184lb ft, and a range-topping 2.0 TDI with 186bhp and 295lb ft.
The new 2.0 TDI engine comes with a seven-speed DSG gearbox as standard, while the others are available with a six-speed manual as well.
The Karoq is available in two- and four-wheel-drive. Higher-specs will come with a Driving Mode Select system, offering five options: Normal, Sport, Eco, Individual and Snow. Off-Road mode, featuring traction control and electronic differential lock, will be an option on four-wheel-drive models.
Board member for technical development Christian Strube said: «After Kodiaq the Karoq takes the next consistent step in our SUV design. We've done over 2.5million kilometres [1.55million miles] of testing – 60 times around the world.»
«We have the option of personalisation for up to three different drivers. You can set up to 200 settings and that's saved to your personal key. We have made clever use of the interior space. It's typically Skoda. One Karoq offers 100% of what a Skoda customer wants in life»
Skoda Karoq to feature adjusting chassis, driver assist systems
The Karoq features a MacPherson-designed front axle with triangular wishbones, and a four-link rear axle. A Dynamic Chassis Control system on the 1.5 TSI and both 2.0 TDI engines will offer three chassis modes – Comfort, Standard and Sport – with electrically operated valves adjusting based on road conditions.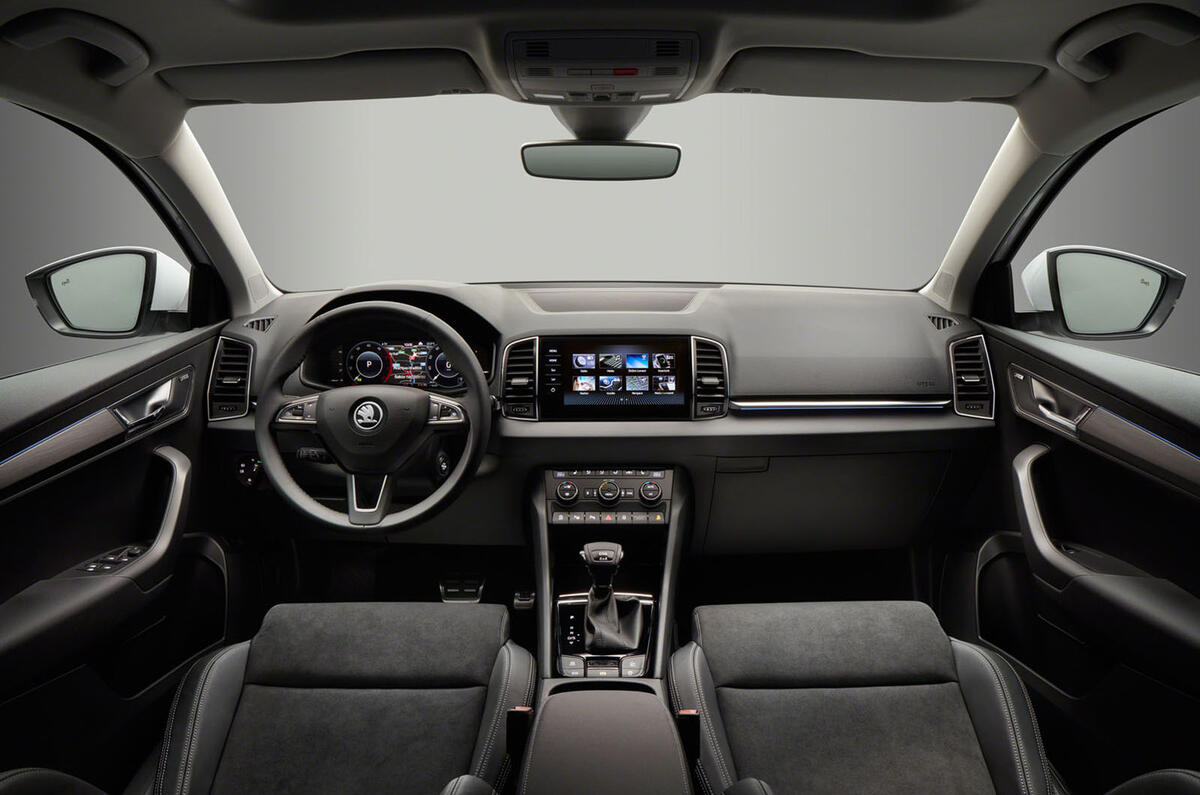 A range of driver assistance systems will be available, including a Front Assist autonomous emergency braking system as standard. Other systems available include Adaptive Cruise Control, Blind Spot Detect, Rear Traffic Alert, Traffic Sign Recognition and Lane Assist.
Advanced in-car tech, completely new design for Skoda Karoq
The Karoq will be the first Skoda to feature a customisable digital instrument panel. It will also come with three individual keys, which will remember a driver's preferred drive mode, lighting, infotainment and other settings setting when they unlock the car.
There are four levels of infotainment system. The top level, Columbus, features a 9.2in screen and gesture control for certain functions. Other features include a wireless smartphone charging pad and adjustable interior ambient lighting, along with a heated steering wheel, heated rear seats, Virtual Pedal hands-free boot system and an electronically retractable tow bar.
Skoda has based the Karoq's design on the Kodiaq, building on the firm's new SUV 'design language', featuring "crystalline elements".
The Karoq has space for five passengers, with a 521-litre boot capacity, which expands to 1630 litres with the rear seats folded. A VarioFlex system allows the three rear seats to be individually adjusted or removed, expanding capacity to 1810 litres. Skoda is yet to confirm final pricing or an on-sale date for the Karoq. It will be available later this year.
Read more
Opinion: Here's hoping the Karoq can do everything the Yeti did
Skoda Vision E electric SUV concept launched
Source:: Autocar