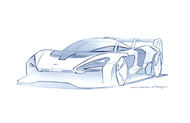 Hardcore track-only Senna gets 814bhp and makes 1000kg of downforce, all 75 examples are already sold out
McLaren has confirmed more technical details of its new, track-only Senna GTR, as well as releasing a sketch of the 2019 production car.
Revealed at March's Geneva motor show, the Senna GTR is described as the fastest machine to roll out of Woking this side of a Formula 1 car. Priced at £1.1 million plus local taxes, production is capped at 75 examples, and all are already sold out before deliveries commence in September 2019.
The standard Senna's 4.0-litre V8 is uprated to produce 814bhp, up from 789bhp, with an unchanged torque figure of 590lb ft. No kerbweight figure has been released yet, but McLaren claims that the GTR's power-to-weight ratio will 'comfortably exceed' that of the standard car.
The final bodywork, previewed in a new design sketch, is based around a chassis with a wider front track. Made almost exclusively from carbonfibre, it features wider front wings, a larger front splitter, a bespoke rear diffuser and repositioned active rear wing. The result is a full 1000kg of downforce, up 200kg over the existing Senna. Under braking, the car is also capable of 3g of decelerative force, 20% more than the Senna.
Autocar's Matt Prior has taken an up-close look at the Senna GTR concept. Check out this video:
Opinion: Why the world needs more cars like the McLaren Senna GTR
McLaren says the Senna GTR will out-accelerate a standard Senna but it has yet to confirm straight-line performance figures. The regular car can charge from zero to 62mph in 2.8sec and takes a total of 6.8sec to reach 124mph.
With no road regulations or pedestrian safety tests to worry about, McLaren's aerodynamicists have extracted a further 200kg of potential downforce from the Senna's body. They've gently resculpted its panels, added an enormous front-splitter and bolted on a rear diffuser that shames those used by Le Mans GTE racers. Add the Senna's active rear wing and downforce now peaks at 1000kg, 400kg more than the P1 GTR.
To handle these enormous high-speed loads, the Senna GTR uses revised double wishbone suspension and Pirelli slick tyres. A carbonfibre Monocage III skeleton remains at the car's core, but the GTR is expected to be around 50kg lighter than the 1198kg Senna when dry, because it can do away with road-specific kit such as airbags, a handbrake and an exhasust muffler, and can make use of lightweight materials such as plexiglass.
Aston Martin Vantage GTE «proves transferable tech»
This means the GTR will produce more than 596bhp per tonne, which would be 108bhp fewer than the hybrid P1 GTR. However, the Senna GTR is an more track-focused package that its makers say can lap McLaren's test circuit quicker than anything else it has built with a roof. McLaren says only its F1 cars can clock a quicker time.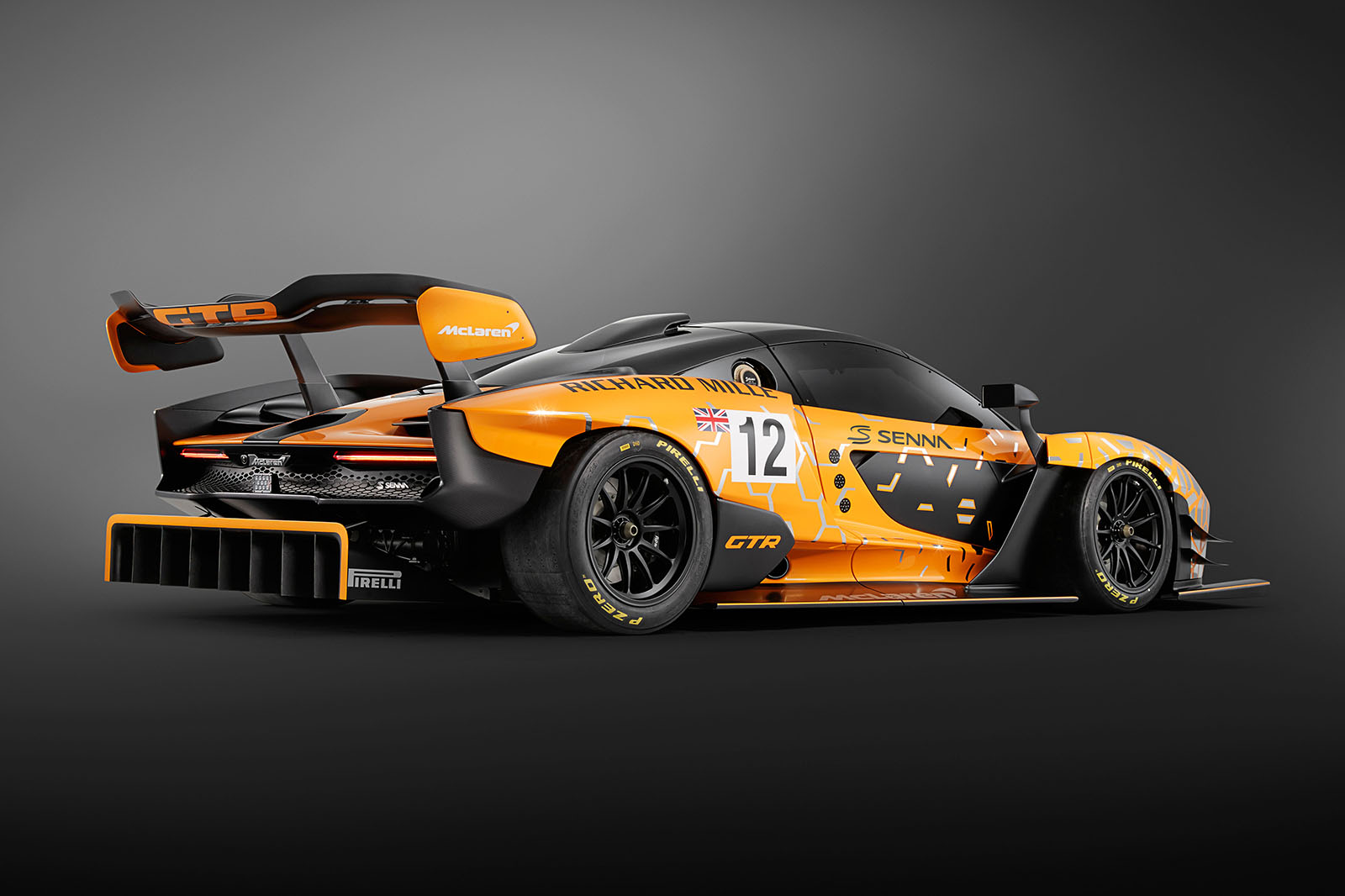 McLaren Automotive design engineering boss Dan Parry-Williams said this level of pace was possible because the Senna was designed "with the full spectrum of road and track requirements in mind" from the outset.
"The McLaren Senna GTR concept unveiled in Geneva is not the finished article but it does give a clear indication of our thinking for the car, which promises to be the most extreme and exciting McLaren to drive for many years, if not ever," he said.
The GTR, which is the latest in a lineage that started with the 1995 24 Hours of Le Mans-winning F1 GTR, will be and hand built at McLaren's Production Centre.
The GTR promises the performance of the Aston Martin Valkyrie and Mercedes Project One for around half the price.
It is the only remaining version of the Senna currently on sale because all 500 examples of the regular car have been allocated; that model started at £750,000.
Read more
McLaren MSO Senna Carbon Theme revealed
Source:: Autocar