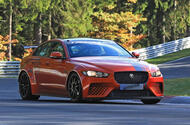 Monster new super saloon, being developed by firm's Special Vehicles Operations division, features 5.0-litre V8 engine tuned for 592bhp
Jaguar development drivers are pushing the brand's most powerful road-going car, the XE SV Project 8, to its limit at the Nürburgring with the objective of setting a new lap record.
The 592bhp saloon model, a Jaguar Special Vehicle Operations (SVO) creation, is at the end of its pre-production schedule and on course for customer deliveries to begin next May. Jaguar is understood to be eager to secure a fastest time for four-door models around Germany's Green Hell.
To do this, the car, which lands as the brand's second special edition following the Jaguar F-Type Project 7 from 2014, will have to beat the current quickest four-door, the Alfa Romeo Giulia Quadrifoglio and its 7min 32sec time. The XE's advantage will come with its much clearer track focus, which makes it so far removed from the regular XE that it will be hand built at SVO's Technical Centre in Coventry, rather than on the regular plant run in Solihull.
Like the Project 7, the special XE model makes use of Jaguar's supercharged 5.0-litre V8 engine. But power has been ramped up to unprecedented levels, peaking at 23bhp more than the aforementioned F-Type. The XE SV is all-wheel-drive, rather than being rear-driven like the Project 7, and uses a specially tuned version of its eight-speed ZF automatic gearbox.
The Project 8 is Jaguar's most accelerative current model with a 0-60mph time of 3.3sec beating the all-wheel drive F-Type SVR by two tenths. This edges the XE SV into the realms of the Porsche 911 GT3 and ahead of fellow limited-run track special, the BMW M4 GTS.
Jaguar's £149,995 model uses racing-specification bodywork to produce downforce. It gets an adjustable front splitter, a flat underbody, a rear diffuser and carbonfibre bumper, and an adjustable rear wing.
Although the exterior looks broadly similar to the regular XE, it has been extensively reworked: 75% of the bodywork is new, with only the front doors and roof unchanged from the production models. In particular, the front headlights have been moved forward by 14mm to allow for extra cooling and engine work.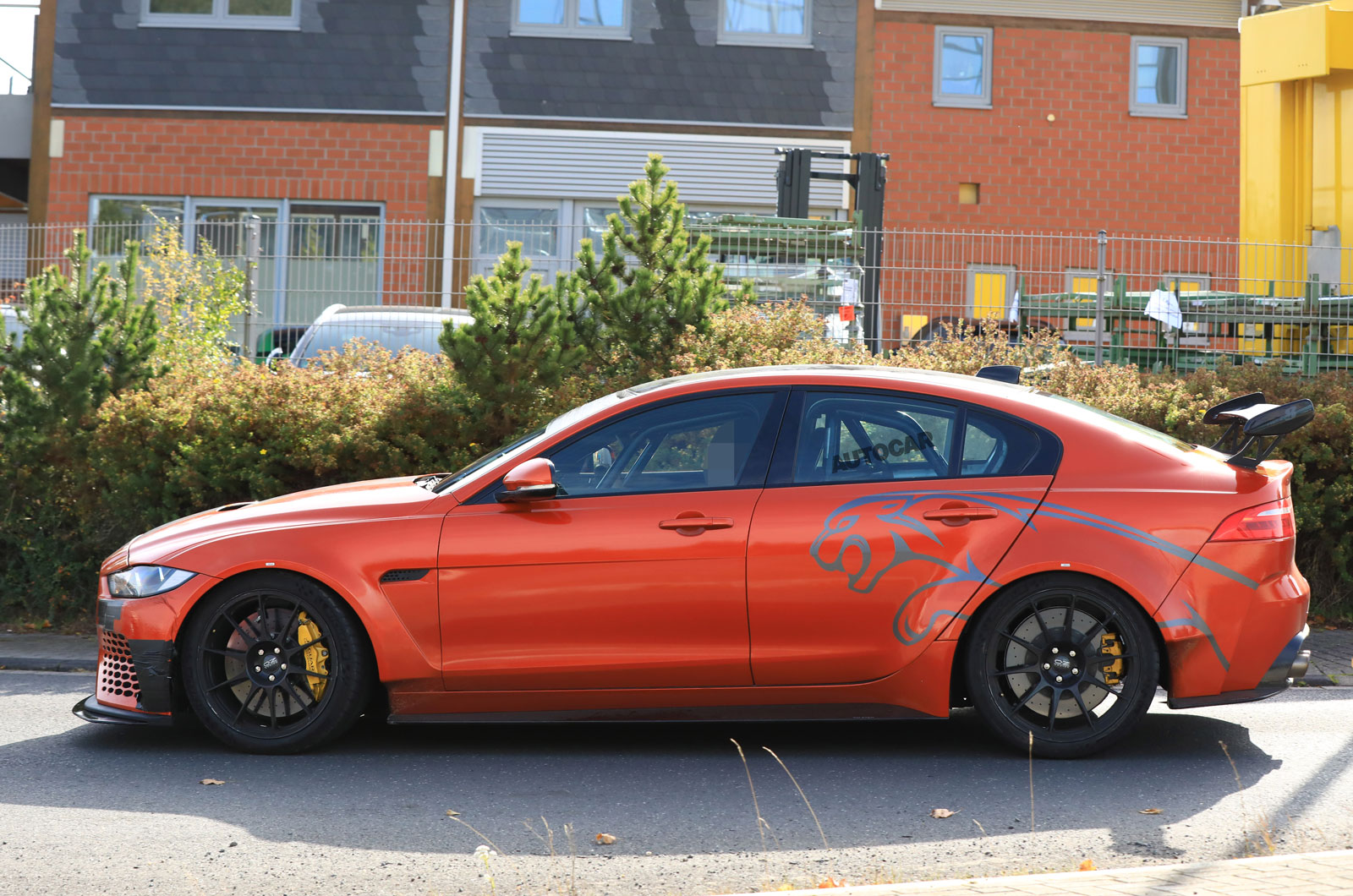 The Project 8 gets a bespoke carbonfibre bonnet that's 3kg lighter than the production version. It also includes an air extraction duct for extra engine cooling.
The car's widened body features arches that extend 55mm further out to accommodate the 305-width tyres. The revised panels required SVO engineers to also install custom-made rear doors.
The car's exterior has been developed with wind tunnel testing and computational fluid dynamics simulations. Jaguar says it has achieved a 205% reduction in lift in Track mode, with the car producing more than 122kg of downforce at 186mph.
For full technical details of Jaguar's hardcore new model, click here to read our reveal story.
Comment: the dream Jag that will never be
Source:: Autocar