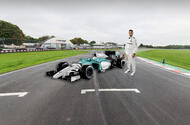 Revised rules proposed by the FIA are aimed at enticing new participants from the automotive world. Aston Martin could be a future contender
Aston Martin boss Andy Palmer has hinted that the brand is further considering a Formula One entry, following the announcement of new regulations for the 2021 season.
The FIA set out the direction for the new engine regulations for the 2021 Formula 1 season, with lower engine development costs at the top of the bill; a key point of interest for manufacturers wanting to participate in F1.
Aston CEO Palmer told Autocar: "Aston Martin attended the recent FIA meeting and has been deeply involved through its submissions on potential solutions. We are encouraged by the directions being taken and continue to study a potential Aston Martin solution for 2021. The key will be how development costs are controlled to make participation by independent engine suppliers a viable possibility."
Under the new regulations, the 1.6-litre turbocharged V6 hybrid power unit formula, which was introduced in 2014, will remain, but with some key modifications.
Stricter parameters for the design of engines' internals are intended to reduce development costs for engine manufacturers and to «discourage extreme designs and running conditions», while a «high level» of new external parameters are said by the FIA to provide teams with a «plug-and-play engine/chassis/transmission swap capability».
Dimensional parameters for the turbocharger will also be specified.
In addition, the power unit's MGU-H element, which recovers heat energy from exhaust gases, will be deleted. This will not only cut cuts but also make the engine more relevant to hybrid road cars, something F1 has long aimed for.
Meanwhile, the MGU-K element, which converts kinetic energy from braking into electrical energy and then deploys it under acceleration, will be made more powerful, with a focus on tactical manual deployment of extra power from the driver.
The power units' energy store will also be standardised for all the cars, further cutting costs.
The new rules also allow the maximum rev limit to be raised by 3000rpm in an effort to improve the engines' sound – something that has been criticised heavily since the hybrid engines were first introduced.
Reducing costs is seen as a key to enticing more engine manufacturers into the sport. Currently, there are just four: Ferrari, Honda, Mercedes and Renault, but Porsche seems keen to join, while Aston Martin has also expressed interest with the proviso that cost restrictions are agreed.
Full details on how the cost reduction will be achieved are still to be announced by FIA, but the sport's organising body views this as an objective and will continue to work on the issue over the next year. Input from current teams, engine suppliers and outside experts is all being used to draft the full proposals.
Source:: Autocar